What is ReqSuite Requirements Management Software?
ReqSuite® RM is an on-premise and cloud-based requirements management solution that assists companies with the standardization, collaboration, configuration, and other operational procedures associated with tendering, procurement, product development, and enterprise application administration. Employees can establish use cases, goals, responsibilities, and business processes customized to a project.
However, keep reading if you are looking for a more robust requirements management tool.
What are the alternatives to ReqSuite requirements management software?
1. Xebrio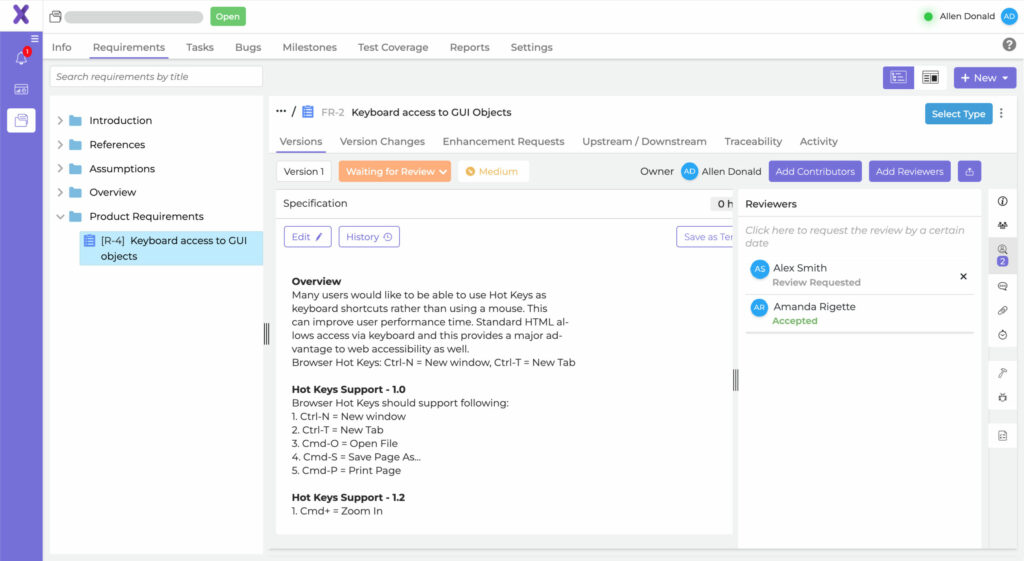 Teams can work together to gather, assess, and finalize requirements using the extensive requirements management ecosystem provided by Xebrio.
The entire project development process, from requirements to releases, is also covered. All stakeholders can actively participate in the approval procedure for gathering requirements in Xebrio, and it has a mechanism for group approval.
It is simpler to connect requirements to tasks, milestones, test cases, and issues, thanks to Xebrio. Users can link these requirements can then to releases to ensure end-to-end traceability. Some of the program's key features are real-time requirements gathering collaboration, version tracking, and version traceability for requirements.
Some other notable features of Xebrio include task management, test coverage, milestone tracking, and bug tracking. The program also features document collaboration, time tracking, and reporting.
In essence, Xebrio is a project management ecosystem with integrated capabilities for requirements management.
2. Modern Requirements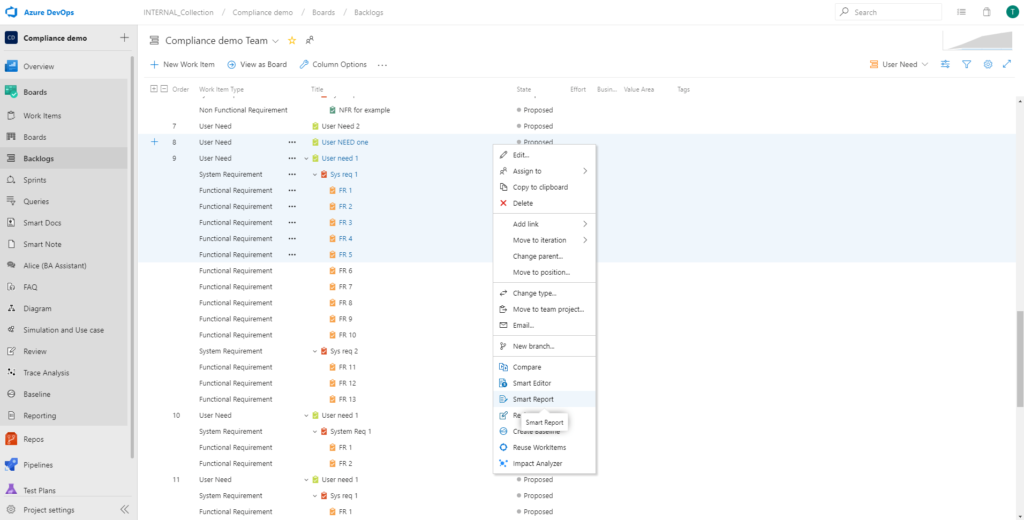 Modern Requirements is built directly into Microsoft's Azure DevOps. It also offers a series of modules enabling users to define and manage requirements. Users can create mockups and cases to define requirements visually. It allows teams to engage in impact analysis. It helps drive reviews and approval requests online. It allows you to run traceability tests to ensure quality and find gaps.
Uses a series of HTML and Javascript controls to organize thoughts and design user interfaces and wireframes.
Offers a 30-day free trial period.
3. Jama Software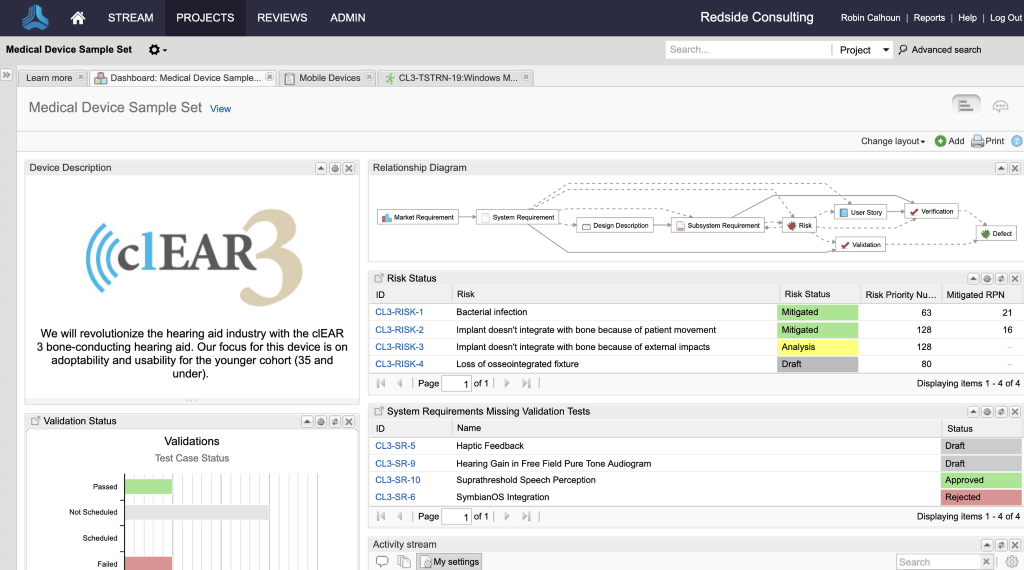 Jama Software maps out processes and relationships between requirements in addition to tracking risks. Users can capture, prioritize, and execute requirements-based test plans and cases. They can also communicate requirements, goals, project progress, and interdependencies with great accuracy and reliability throughout the software development process.
Jama also provides end-to-end live traceability of people, data, and processes. Users can engage in real-time impact analysis, reviews, and approvals, allowing for greater team collaboration.
Jama Software has two licenses: user-based and floating-based, through an annual subscription model.
Price available on request.
4. Inflectra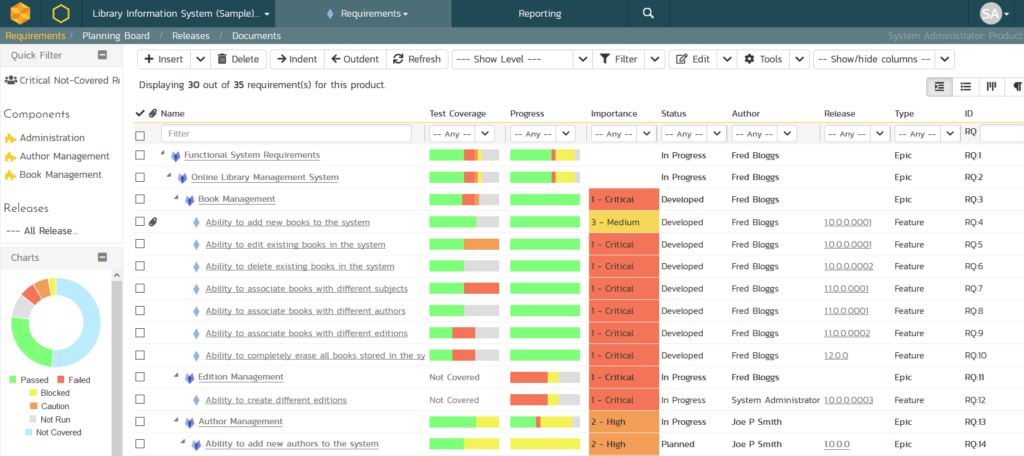 Inflectra lets users manage project requirements and test cases efficiently. They can also manage their project portfolio by using executive dashboards and real-time reports and doing a thorough analysis. They can drive version controlling of artifacts. The requirements management software allows users to track bugs, issues, and tasks.
For remote teams, Inflectra has instant messaging features to drive collaboration.
There are over 60+ integrations, such as JIRA, Visual Studio, IBM doors, etc., with Inflectra.
Users can leverage two types of capabilities: on-premise and Cloud-hosted (AWS).
5. Reqview
Another alternative to ReqSuite, ReqView allows users to capture requirements in structured documents. It enables seamless offline collaboration with the team by storing data on a shared network drive. ReqView empowers teams to organize requirements into a tree hierarchy and helps manage document data in a single view. It uses a rich text format to enhance the requirements text description.
Users can customize requirements, tests, and risks. They can also attach images, PDFs, and other document types to the software. ReqView has a live view of the traceability matrix.
ReqView enables side-by-side project version comparisons, and it automatically generates HTML reports.
There is a 14-day free trial available.
6. Codebeamer
CodeBeamer is a tailor-made application lifecycle management tool by Intland Software. They help to align software, electronics, and mechanical innovations and developments with advanced products. CodeBeamer comes with pre-configured templates to comply with DevOps and Agile-oriented companies.