What is Helix RM?
Helix RM is a requirements management tool that enables users to capture requirements, review and approve requirements, and stay on top of requirement changes. However, when it comes to offering the entire suite to gather requirements for a project, there are alternatives to Helix RM that offer better features for project management.
Alternatives of Helix RM for Gathering Requirements
When it comes to requirements gathering, there are a few alternatives for Helix RM that come to mind. Jama, Visure, and Xebrio are perhaps some of the most popular requirements management software. These tools have built-in features that make it quick and easy to get started. They also allow for better collaboration because they're visual and easy to use. So, whatever requirement gathering needs you have, check out one of these alternatives and see for yourself how great they are.
1. Xebrio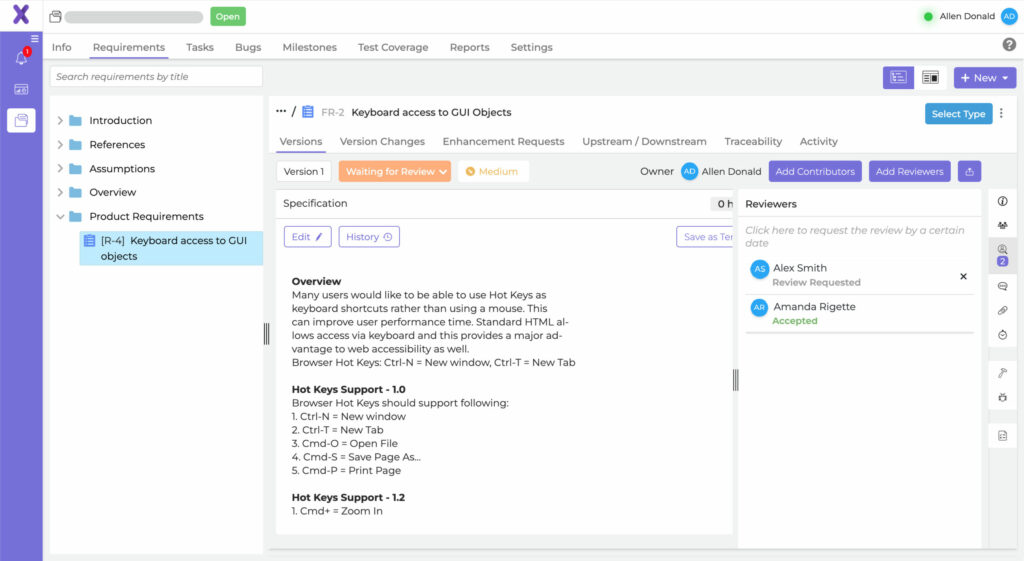 Xebrio is a complete ecosystem for requirements management that provides end-to-end traceability for the duration of a project. Its process for requirements approval is intended to involve stakeholders and guarantee total transparency throughout the requirements collection process. Users of Xebrio can freeze the requirements for compliance reasons, and the tool's requirements versioning functionality makes it adaptable enough to handle changes in requirements.
Without the need for an additional tool or plugin, Xebrio covers every stage of a project or product development, from requirements to the release cycle. Users can link requirements to tasks and test cases, and trace requirements across each project development lifecycle phase thanks to its end-to-end traceability feature.
The real-time collaboration feature of Xebrio makes remote teams more effective and makes sure that all talks pertaining to projects remain structured and open.
Xebrio's pricing starts from $1/user/month for start-ups and small teams for upto ten users.
2. Jama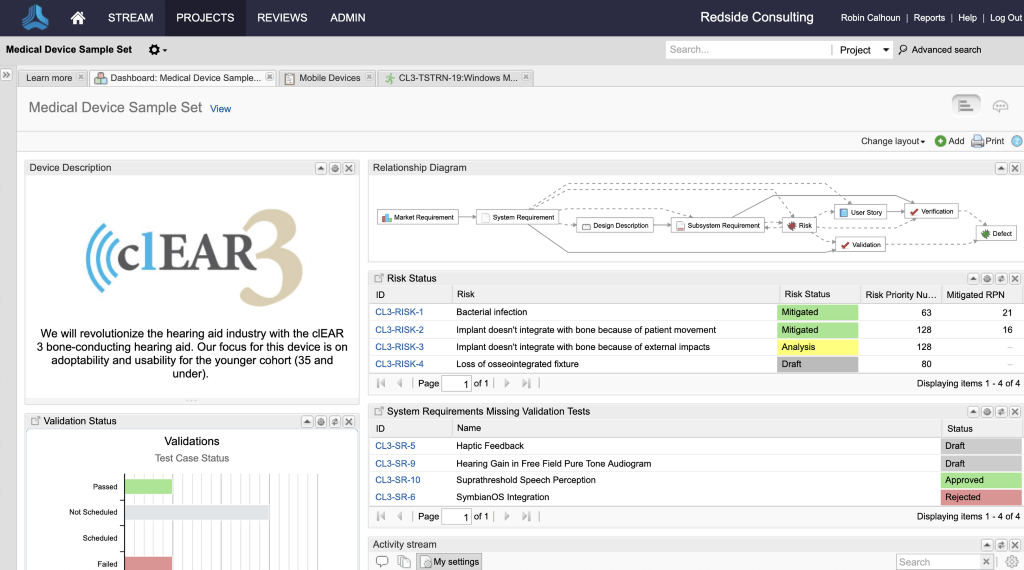 Jama Software offers a platform for managing requirements, risks, and tests. Jama Connect helps teams designing complex products, systems, and software to accelerate cycle times, boost quality, decrease rework, and spend as little time as possible demonstrating compliance.
Throughout the development process, this enterprise-grade solution allows for the precise capture and communication of requirements, goals, progress, and interdependencies. It gives you the ability to manage change, increase efficiency, and bring stakeholders in hardware, firmware, and software development into alignment.
To assure quality and compliance, you can define, arrange, and carry out requirements-based test plans and test cases.
A product that has the versatility to handle different technical disciplines and development techniques is jam-packed with all of these capabilities. This combined with a simple, browser-based user interface result in a comprehensive piece of software that is nonetheless simple to use.
3. Visure
For requirements, risk, and test management, Visure offers a simple-to-use, tailored solution.
In order to create complex products, systems, and software that require end-to-end traceability from design to testing to deployment as well as standard certification compliance, teams need this technology. It is among the most adaptable and configurable RM systems, making it simple for stakeholders to work together on straightforward or intricate requirements.
Active Visure users claim a definite influence on project compliance, on-time project delivery, and a reduction in development costs and cycle times.
Visure supports one of the best features for MS Office exporting and importing, and it smoothly interfaces with IBM DOORS, JIRA, Sparx EA, TFS, ReqIF, MATLAB, VectorCAST, and other essential tools for system engineering teams. Agile, waterfall, and V model are just a few of the many project types and methodologies that are supported.
You can request a 30-day free trial to check out their affordable prices.
4. Modern Requirements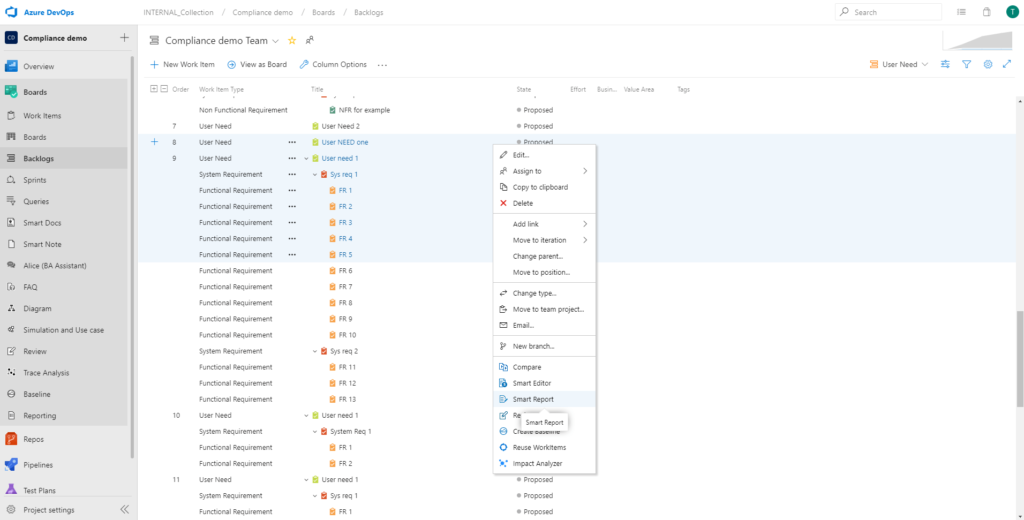 An all-inclusive 4DevOps tool is provided by Modern Requirements as a solution for requirements management. You may generate, automate, manage, analyze, and report requirements right from your Azure DevOps project using the simple tools that are integrated into Microsoft's Azure DevOps.
Modern Requirements4DevOps reduces duplication of effort, fosters requirement reuse, and links your needs to your assets directly. It is possible to create assets such as use case models, mockups, diagrams, and documentation that dynamically update as needs change.
Modern Requirements, which is fully integrated into Microsoft's Azure DevOps, offers a user-friendly interface with the ability to shut off any aspects that a particular user might not need. In addition, Modern Requirements offers expert training and implementation support services, a free bootcamp that guides consumers through each product it offers.
A single source of truth can be created for both your new and ongoing projects thanks to Modern Requirements' full integration with Microsoft's Azure DevOps. Through their Sync Bridge, they also provide full integrations with all popular tools.
The prices are provided upon request. They offer a free 30-day trial period.
5. Polarion
Polarion is another tool to gather and manage requirements. Throughout the project lifecycle, it collects, reviews, and manages requirements for complex systems.
All requirements are sent for evaluation, approval, or development by all other stakeholders. The Import Wizard, which is built on rules, makes it simple to import existing assets. Polarion supports offline collaboration so any changes made remotely or otherwise, can be effortlessly integrated into Polarion. Stakeholders can sign of on specific documents they have reviewed and approved. Users can also create test cases simultaneously with requirements.
Polarion offers integrations with Enterprise Architect, ServiceNow, Azure DevOps, Atlassian Jira, and other programs. It also supports tracking alterations in HTML, C, and C++ source code.
Users can import and export data from MS Word and Excel with ease. It supports the automotive, embedded systems, medical device, and aerospace industries. It provides real-time collaboration, live traceability, workflow management, test management, and bug tracking.
It offers a Free 30-day trial.
6. ReqSuite
ReqSuite® RM (produced by OSSENO Software) is a robust but user-friendly utility. It offers a variety of helpful features while remaining lightweight, simple to use, and reasonably priced. It also strikes a nice mix between customizability and simplicity.
This tool for requirements gathering and administration comes with a comprehensive set of configurable templates, the capacity to handle reusable requirements, the design of workflows, capabilities for teamwork, and support for automatic requirement quality checking.
ReqSuite® RM's main selling points are its simplicity of use and setup, as well as the broad vendor support that is provided without cost. The customization is quite intuitive but still very powerful, and the navigation makes sense.
Costs for ReqSuite® RM start at 70 euros per user per month.
Conclusion 
When it comes to choosing the right RM software, it is essential to understand the pros and cons of each option. In this blog, we have outlined some of the best Helix RM alternatives for 2023. By understanding the different benefits and drawbacks of each requirements management software, you can make an informed decision about which software is right for your business. So, what are you waiting for? Start using Helix requirements management alternatives today.