Requirements have always been a discrete component in the entire project management lifecycle. This will eventually change as 2023 is one such year when this change will be accelerated. Requirements are an integral part of the project management lifecycle and it has to be traced end-to-end for the successful execution of the project.
Project management has come a long way and things are only going to change for the industry in 2023. Simply listing down requirements at the start of the project is no longer enough.
Whether you call it epics, stories, goals, use cases, or simply, functional requirements, the art of capturing your project's requirements is essential to your team's success. This means different things for different people in the project ecosystem:
For stakeholders and partners, it means understanding whether what was promised to the customers is being delivered (or not).
For team members, it means managing increasingly complex project requirements and communicating with people in real-time.
For project managers, it means managing your team members by using a requirements document that defines the project's values, functionalities, and goals. The requirements manager is also responsible for ensuring that the team members are in sync, that they can course-correct when unpredictable issues crop up (as they will), and that the project is always status on track by throwing light on the ins-and-outs of what's happening in the project throughout the development stages.
All in all, requirements management helps teams to understand the why behind projects by providing context to critical elements such as project goals, reviews and feedback, and finally, project decisions.
Now that we have a basic understanding of what requirements management entails, let's move on to analyzing the top-10 requirements management software that can make the requirements management process simple and seamless in equal measure.
Top-10 Requirements Management Tools to Swear By
Given the popularity of managing requirements in software engineering, plenty of all-purpose requirements management tools have emerged in the market. Below, we have a quick run-down of curated tools that will make every requirements manager's life easier. We will also look at what makes these tools different from its competitors, in addition to understanding what types of projects and enterprises that the tool is most suited for, starting with:
1. Xebrio: The Most Adaptable and Flexible Requirements Management Tool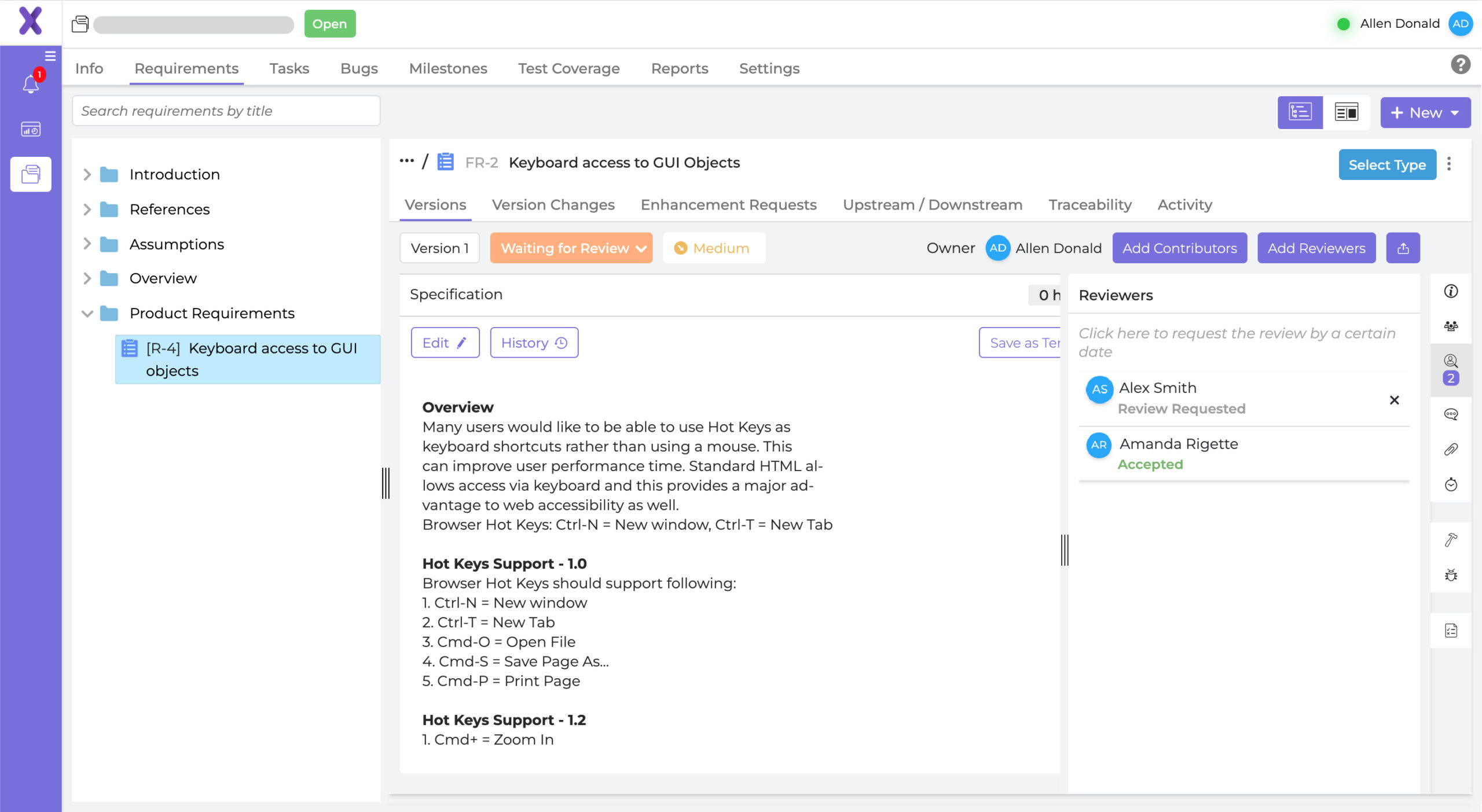 What makes it stand apart from the rest?
Gather requirements and get them reviewed and approved through thorough stakeholder collaboration.
Map, categorize, and prioritize requirements by linking them to tasks, milestones, and test cases.
Trace the status of individual requirements all the way to deployments.
Track requirements across versions in real-time and gain transparency into project status.
Leverage an "approval workflow" system where teams can commence projects only after the stakeholder approves the project requirements.
Capture requirements from the end-users perspective.
Use a bug and issue tracker to tackle roadblocks in real-time.
Leverage data visualization, reporting, and insights.
Xebrio has different pricing plans for users with different features available.
Key takeaway: Whether you are in the IT and Marketing or the Electronics and Healthcare spaces, this all-in-one requirement management tool is your best bet.
2. Visure: An easy-to-use requirements management software mainly used in engineering process
Visure's main features include:
Supports multiple project management styles
Has end-to-end traceability; right from requirements ideation to deployment.
Manage risks, tests, and track bugs
Implement requirements engineering processes
Manage changes throughout the application lifecycle by capturing, analyzing, validating, and enabling requirements.
Produce requirements through MS Excel and MS Word.
Request a custom quotation to select a plan for your organization.
Key Takeaway: Visure offers custom templates for different industries and has a short learning curve for new project managers. If you also want to work with different PM methodologies, then this is your tool to go to.
3. ReQtest: A Perfect Tool for Agile Requirements Management
What makes ReQtest stand apart from the rest?
Offers an Agile Board for tracking requirements
Enables you to attach and track design documents, mockups, etc.
Allows you to connect requirements to tests and bugs
Provides end-to-end traceability
Helps you to filter and visualize data in a bar or pie chart
Pricing starts at $10 user per month for small teams and $45/user per month for large teams
Key takeaway: ReQtest is an affordable requirements management tool that is perfectly suited for organizations that deal with agile development on a daily basis.
4. Modern Requirements: An Inclusive Web-based Requirements Management Software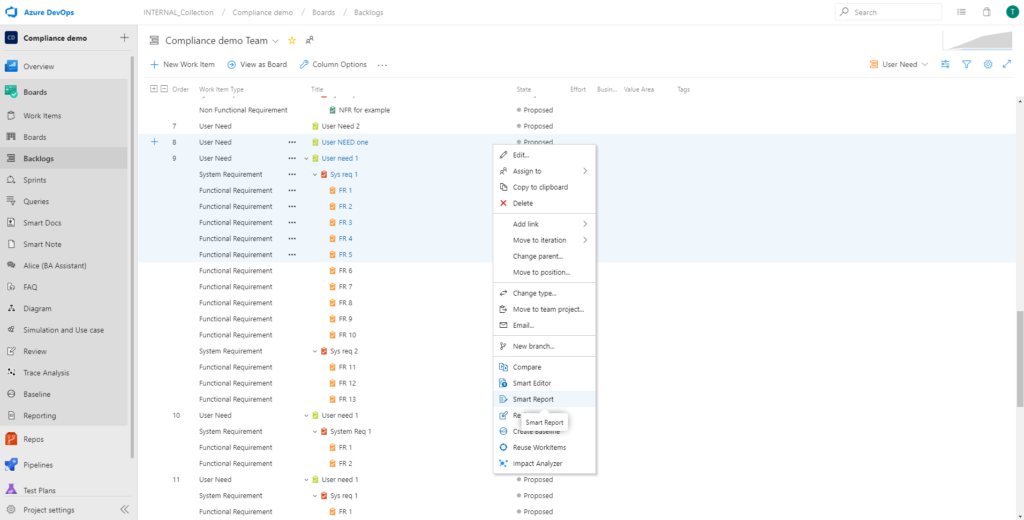 What makes Modern Requirements stand apart from the rest?
Built directly into Microsoft's Azure DevOps
Offers a series of modules enabling users to define and manage requirements
Allows you to use mockups and cases to define requirements visually
Uses diagrams and uses cases to automatically generate test cases and scenarios
Allows teams to engage in impact analysis
Automatically generates custom-formatted Word or PDF documents
Helps drive reviews and approval requests online
Allows you to run traceability tests to ensure quality and find gaps
Offers comprehensive configuration settings
Uses a series of HTML and Javascript controls to organize thoughts, design user interfaces, and wireframes
Auto-generates HTML reports directly from the backlog or query view
Offers a 30-day free trial period
Key takeaway: This tool is best suited for project managers looking to bring their requirements team together with their development and testing teams as it offers seamless integration with Azure DevOps, TFS, and VSTS
5. SpiraTeam by Inflectra: The Best Requirements Management Tool for End-to-end Traceability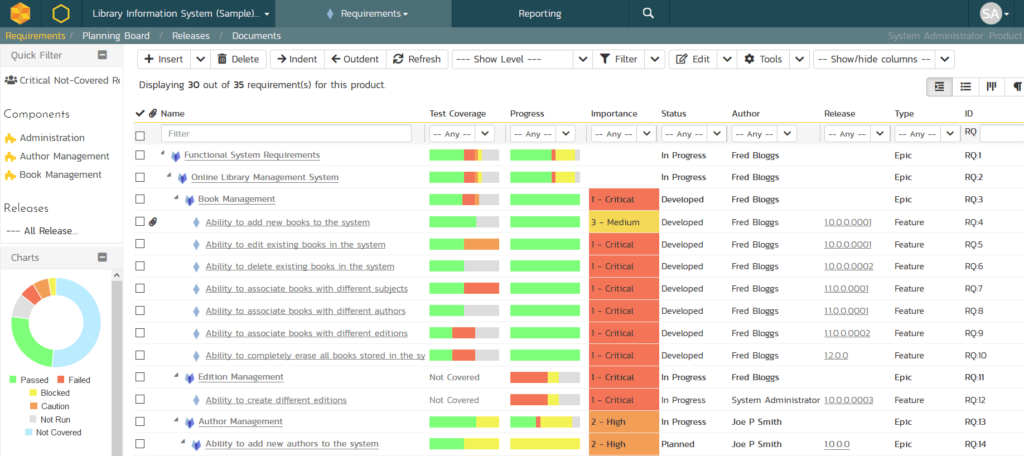 What makes SpiraTeam stand apart from the rest?
Manage project requirements and test cases easily.
Manage your project portfolio by making use of executive dashboards and real-time reports in addition to doing a thorough analysis.
Engage in robust configuration management.
Drive version controlling of artifacts.
Tracks bugs, issues, and tasks.
Integrate source code and IDE for Devs.
Drive a culture of collaboration through instant messaging features.
Leverage over 60+ integrations (think: JIRA, Visual Studio, IBM doors, etc.)
Leverage two types of capabilities: on-premise and Cloud-hosted (AWS).
Key takeaway: If you want end-to-end requirements traceability functionality, this tool is ideal for you. It is also ideal for organizations that engage in the agile software development process, making it adaptable to your preferred methodology and processes (instead of it being another way around).
6. Jama Software: The Best Requirements Tool for Diverse Engineering Disciplines and Software Development Methodologies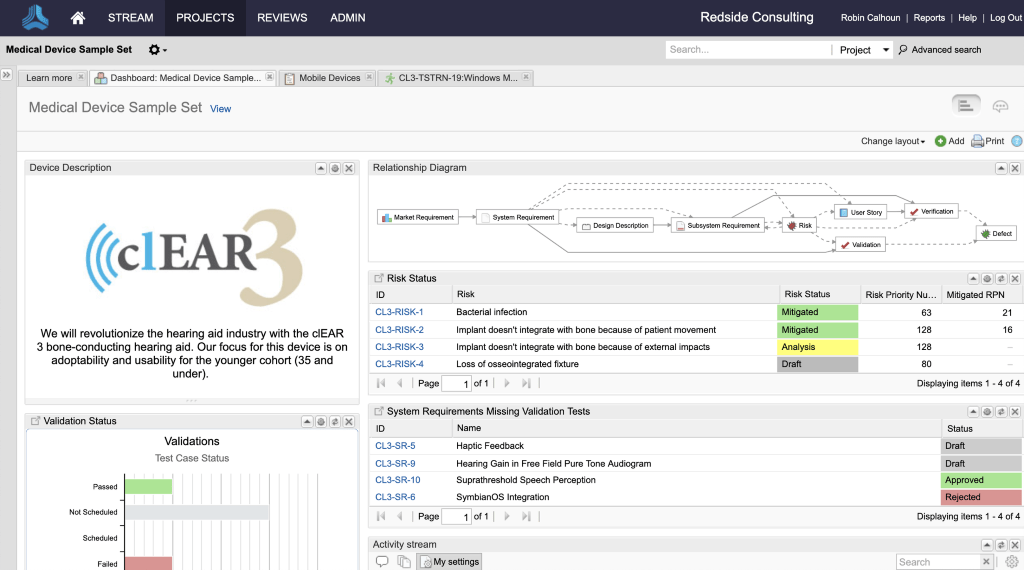 What makes Jama Software stand apart from the rest?
Map out processes and relationships between requirements in addition to tracking risks.
Capture, prioritize, and execute requirements-based test plans and test cases.
Communicate requirements, goals, project progress, and interdependencies with great accuracy and reliability throughout the software development process.
Manage change and prove compliance with increased efficiency.
Leverage end-to-end live traceability of people, data, and processes.
Engage in real-time impact analysis, reviews, and approvals, allowing for greater team collaboration.
Leverage an intuitive, browser-based interface that is easy to use.
Integrate with ALM, PLM, QA, and MBSE, thus providing holistic traceability, visibility, and collaboration throughout the project development process.
Use two types of licenses: user-based and floating-based through an annual subscription model.
Price available on request.
Key takeaway: Whether you wish to enhance your project cycle times, improve quality, reduce rework, or gain compliance, this enterprise-grade tool is worth the investment.
7. Accompa: Easily, the Easiest Requirements Management Tool Out There To Use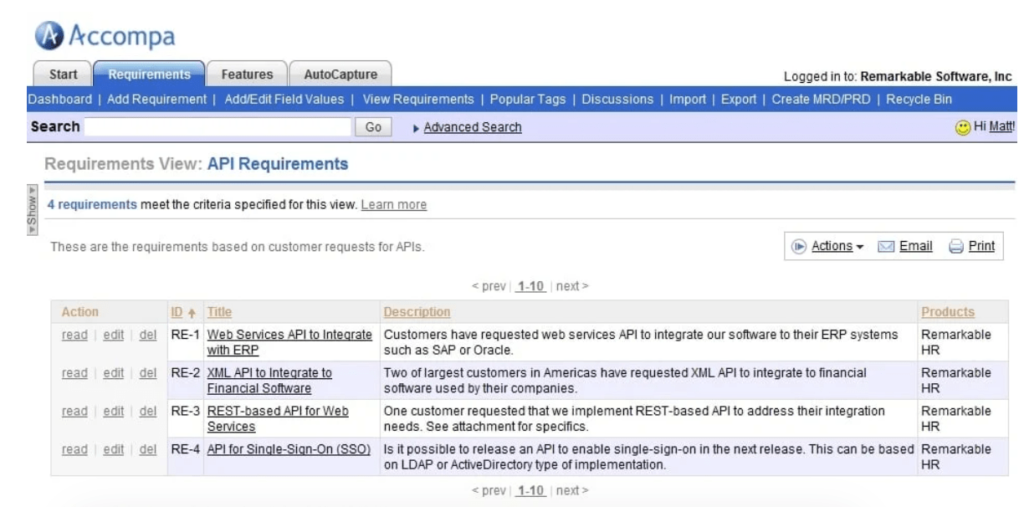 What makes Accompa stand apart from the rest?
Allows you to capture and track product requirements across different products and projects
Allows you to author, validate, and verify requirements
Offers a host of useful basic features such as requirements traceability, change and dependency tracking for impact analysis, discussion boards and custom fields, alerts for collaboration, etc.
Offers pre-built integrations with Jira, HP Quality Center, IBM Rational, FogBugz, IBM Rational ClearQuest, etc.
Offers a 30-day free trial period
Cons:
Does not offer a robust and comprehensive set of features
Price starts from $199/month.
Key takeaway: If you want requirements management software that's super easy to use and comes with a friendly pricing package, try the Accompa requirements management tool.
8. IBM Rational Doors: The Feature-Rich Requirements Management Solution Of Choice for Larger Enterprises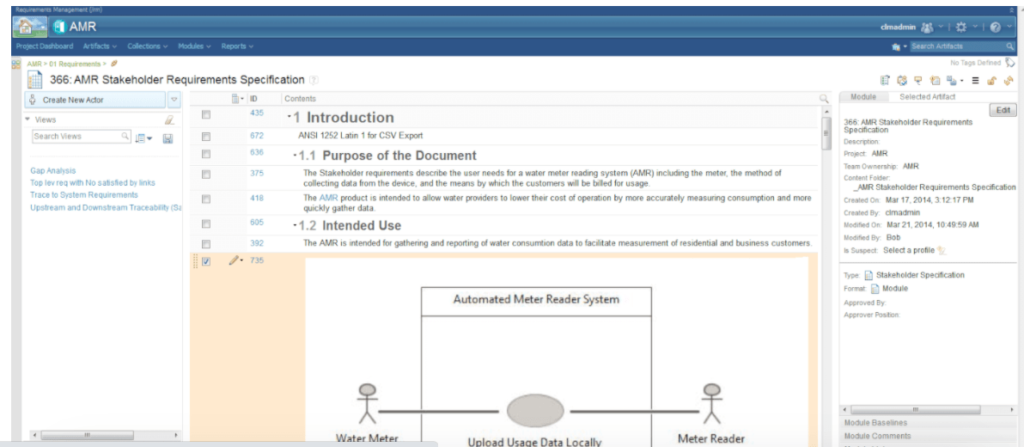 What makes IBM Rational DOORS  stand apart from the rest?
Offers a suite of resource management software and companion products
Allows for seamless interoperability with other tools such as lifecycle management, team collaboration, and systems/software engineering, to name a few
Offers integration with Jazz-based products and hosted Jazz solutions
Offers customers with a plethora of options for support such as on-demand webinars, responsive support, how-to tutorials, and videos, etc.
Offers a 45-day free trial period
Cons:
Its large and complex database can make configuration management difficult.
Handling the tool will require technical knowledge and training.
Prices start from $164/month as a SaaS.
Key takeaway: Since collaborating in a large organization can become a tedious process, this requirements management tool makes things easier for every person involved by allowing members to store requirements and specifications documents in a centralized place, enabling easy access across the board, driving scalable customization, and of course, empowering team members with higher levels of granularity and configurability.
9. Innoslate: The Best Software to Develop and Manage Complex Products and Systems
Innoslate is one of the best open-source requirements management software out there. You can plan and control the development and release of the new features.
What sets it apart from others?
Analyze requirements through NLP (natural language processing) technology.
Has an incredibly intuitive graphical UI.
Manage and use any changes in the project with version control.
Customize the requirements according to the project needs.
You can request a quote to select a plan for your organization.
Key Takeaway: If you work on projects that have large amounts of data, then Innoslate steps up to the task with ease.
10. ReqView: A Simple, Powerful, and Lean Requirements Management System for Quick and High-Quality Performance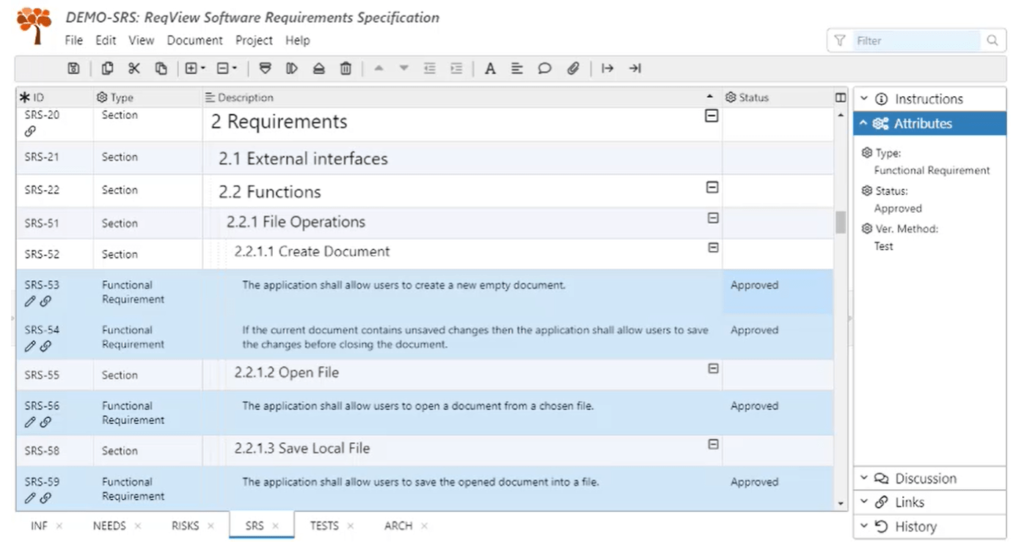 What makes ReqView stand apart from the rest?
Allows you to capture requirements in structured documents
Enables seamless offline collaboration with the team by storing data on a shared network drive
Empowers teams to organize requirements into a tree hierarchy
Helps manage document data in a single view
Uses rich text format to enhance the requirements text description
Allows you to customize requirements, tests, and risks
Allows teams to attach images, PDF, and other document types
Allows you to leverage a live view of the traceability matrix
Helps restore deleted objects from a document Templates
Enables side-by-side project version comparisons
Automatically generates HTML reports
Offers the project manager the ability to encrypt documents so that it can be shared safely
Offers a 14-day free trial period
Cons:
Pricing starts at $429.00 per year, per user.
Key takeaway: ReqView is a deceivingly simple requirements management tool that allows SMBs and enterprises operating in the regulated industry space to achieve high levels of compliance with safety-critical standards.
Moving on, let's look at some common questions that may cross your mind when buying a requirements management tool.
Frequently Asked Questions
Q1. Why do I need a requirements management tool in the first place?
Requirements management tools are, for all intents and purposes, more advanced versions of Google Docs, spreadsheet, etc., for managing requirements of a project from start to finish. These enterprise-grade tools allow organizations to capture voluminous data and assist distributed teams to collaborate with seamless ease.
Most softwares come with additional functionalities such as task management, risk management, change management, etc., to assist teams in a variety of use cases such as creating mockups, engaging in software testing, etc.
Q2. What are the types of requirements management tools available?
Essentially, there are two types of requirements management software such as basic, lightweight software such as ReqTest, Accompa, ReqSuite, etc. And then, there are more robust versions of requirements management software such as Rational Doors, Xebrio, Orcanos, and Jama Software. You also have some in-between variations, such as Modern Requirements, that offer the best of both worlds in terms of functionalities and ease of use.
Q3. Should I buy a license or Cloud-based software?
Most requirements management tools today offer both Cloud-based service and on-premise versions. The software type you choose will ultimately depend on your project and organizational requirements. Note that there are completely Cloud-based tools also available such as Accompa, ReqTest, and Xebrio. If you are still confused, brainstorm with your team to understand if you have the capabilities required to host a solution on-premise, or else go for the Cloud0only version.
Q4. Is it easy to implement requirements management tools?
The ease of implementing a requirements management tool ultimately rests on which tool you choose. When analyzing whether a Cloud-based solution or an on-premise solution is the right fit, consider the following points:
A Cloud-based Saas is quicker to implement than an on-premise solution.
The kind of training and support you will be able to extend to your team members. It helps to look out for tools that are known for their customer support in this regard.
The kind of pre-built integrations that you will need. Also, factor in whether the tool will align seamlessly with your existing development and business tools or not.
Q5. Why do some requirements management tools fail?
If your requirements management tool is failing to show results, consider the following reasons:
Your tool is too complex for the team to adapt to and comes with a steep learning curve. To tackle this, make sure to speak to the customer support team and get access to demos, dummy tasks, training sessions, etc. Note that customized tutorials can also help. You can also create your own repository of how-to guides and make it accessible for users 24×7.
You did not create a foolproof document that outlines the goals, values, and expectations expected from the tool prior to purchasing it. To tackle this, you will need to thoroughly analyze where the tool might be failing, what methodology will suit the project and the tool, and what processes need a complete revisit.
You did not factor in "hidden costs and fees" that are making the continued use of the requirements management tool in question difficult. It is highly recommended that you always be upfront with the vendor about implementation costs, training costs, etc. so that there are no surprises later on.
Q6. How can I make the transition process to a new requirements management tool more seamless?
To ensure that there are fewer hiccups when transitioning to a completely new tool and, by extension, a new way of working, consider the following factors:
Keep your team informed about the changes taking place in the requirements management process so that they can be better prepared mentally.
Involve your team members when choosing the kind of tool to deploy. Take into account their suggestions, goals, and expectations so that everyone's on board and can move forward collectively.
Speak to your vendor about the kind of after-support you expect in the form of demos, training material, workshop sessions, etc.
Regularly brainstorm with your team to understand the best-practices as well as the tricks of the tool together.
Keep an open mindset with respect to new protocols and rules that may need to be established with a new tool in hand.
There you go. These were some of the most important questions that managers have when embracing a new tool. Finally, let's look at what a robust requirements management tool should offer from a generalized standpoint.
Top-12 Factors To Keep In Mind When Selecting A Requirements Management Tool
Let's set the record straight: Honestly, there is no set template of features that define a "robust" requirements management system. In the end, the kind of tool you choose will depend on:
The needs of your organization, your individual project, and your team at large
The type of "system" you are building
The process and methodology you intend to follow
Your organization's work culture and ethics
That said, here's a basic list of the most common features that should be integrated with every requirements management tool worth its salt:
Encourages real-time collaboration, approvals, and feedback during requirements validation via all stakeholders, customers, and partners through electronic signatures
Enables you to build an accurate development schedule by extracting detailed technical tasks from the requirements document
Allows you to define, capture, track, and reuse requirements, use cases, and user stories through a simplified interface
Allows you to model relationships between requirements
Helps you to drive real-time acceptance tests and impact analysis to ensure that features can be tested prior to development completion
Engage in instant messaging to gather inputs and reviews
Allows you to run test cases
Offers seamless integration with Word Doc tools, Spreadsheet tools, and Development tools
Offers data visualization features – complete with interactive flows and simulations – such as Kanban boards, personalized dashboard, storyboards, graphical models, etc. to help plan requirements better
Offers integrated version control and history tracking of requirements
Helps drill down from requirements to tests and incidents
Provides customizable workflows and offers support for custom fields
Wrapping Up
As is the case with every kind of project – especially with agile teams – your project's requirements are bound to change. So the ability to define requirements and track updates as well as progress via a unified platform throughout the development cycle is nothing short of a superpower.
This is where requirements management software comes in handy. By integrating the combined expertise of both manual resources and the intuitive software, you can not only kickstart your project on the right track but end it before time and within the budget – sounds too good to be true, right? Try it and see the difference for yourself.