A quick search on LinkedIn shows that there are over 173,867 open job vacancies for a requirements manager. What's fueling these skyrocketing demands for a requirements manager Let's explore.
Delayed, low-in-functionality, or over-budget projects are a common occurrence for most project managers. This is where a requirements manager can help. In this guide, we will cover everything you need to know about how to become a requirements manager. Let's jump right in.
Requirements Manager: Key Roles & Responsibilities
Let's begin by understanding what is requirements management. Quite simply, the primary goal of requirements management is to make sure that your product development goals align with your project goals and are successfully accomplished. The process entails documenting, reviewing, and prioritizing requirements so that your engineering team is on the same page about the current (and approved) requirements.
So, what are the key roles and responsibilities of a requirements manager?
Key Roles & Responsibilities
Investigating the needs of a project and documenting the technical requirements
Researching, developing, and communicating requirements for a project (typically in the IT or Finance industry)
Ensuring that the project is meeting the customer's needs
Driving on-point communication to ensure everyone understands the requirements needed
Conducting routine investigations to make sure that requirements are met
Having the requisite technical and project management skills to stay on top of the job
How to Become a Requirements Manager?
Here's how you can become a requirements manager:
The first thing you'll need is a bachelor's degree along with about 2 to 4 years of experience. Prior to becoming a requirements manager, you can gain experience as the following: a business analyst, a project manager, or a senior business analyst.
Another important point to note is that requirements managers are expected to possess the right mix of soft skills, such as leadership skills, organizational skills, communication, and more. Once you've crossed all these milestones, you can easily become a requirements manager with 6 to 12 months of on-the-job training.
Here's a simplified step-by-step lowdown of how to become a requirements manager: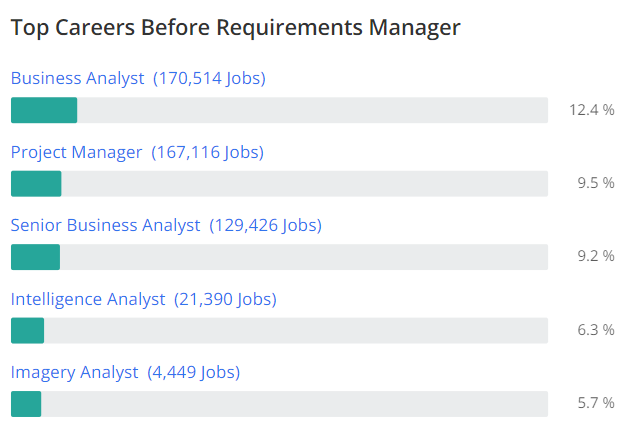 Step 1: Do your homework to understand the kind of education to complete to become a requirements manager. Generally, you'll need a bachelor's degree in business informatics, computer science, information systems, political science, or any engineering degree. You can also think of getting a master's degree.
Pro tip: Some of the best colleges for earning a requirements manager degree are Carnegie Mellon University, University of Pennsylvania, Boston University, Baruch College of the City University of New York, and more.
Step 2: Focus on developing the key requirements manager skills, which include technical and soft skills.
Pro tip: Remember that the main areas where you'll need to focus on requirements management are business analysis and requirements engineering.
Step 3: Apply for relevant training or internship to get real-world experience of what the job entails and whether or not you're a right fit for it.
Step 4: Conduct research relating to requirements manager duties and responsibilities. Understand whether you need to skill up with relevant certification (think: the IT Information Library Foundations Certification (ITIL) or the Certified Manager Certification (CM), for instance).
Step 5: Create an in-depth and up-to-date resume.
Step 6: Apply for a job on reputed portals such as LinkedIn, Glassdoor, etc.
Requirements Manager: Career Scope & Salary
If you are unsure about where to begin or where your career might be heading with a requirements management role, keep reading. In this section, we have highlighted everything you need to know about making a successful career in requirements management, starting with:
Qualifications Needed
The skills required for a manager are diverse in nature. They need to have a blend of technical skills, business skills, and soft skills supplemented with the right knowledge and expertise. This includes having the following:
Java
Client-facing skill
Experience in emerging technologies
Knowledge of Lean Six Sigma
Above-average intellectual capacity
Abstract and logical thinking
Mathematical thinking
Excellent cognitive memory
Spatial imagination
Keen organizational skills
Leadership quality
Great communication skills
Decision-making ability
Speed of action
Ability to work independently
Increased flexibility
Mental resilience
A willingness to learn
Good working knowledge of key requirement management tools such as Xebrio or Visure
In terms of the career scope, here's a detailed roadmap of how you can expect your career to progress with requirements management: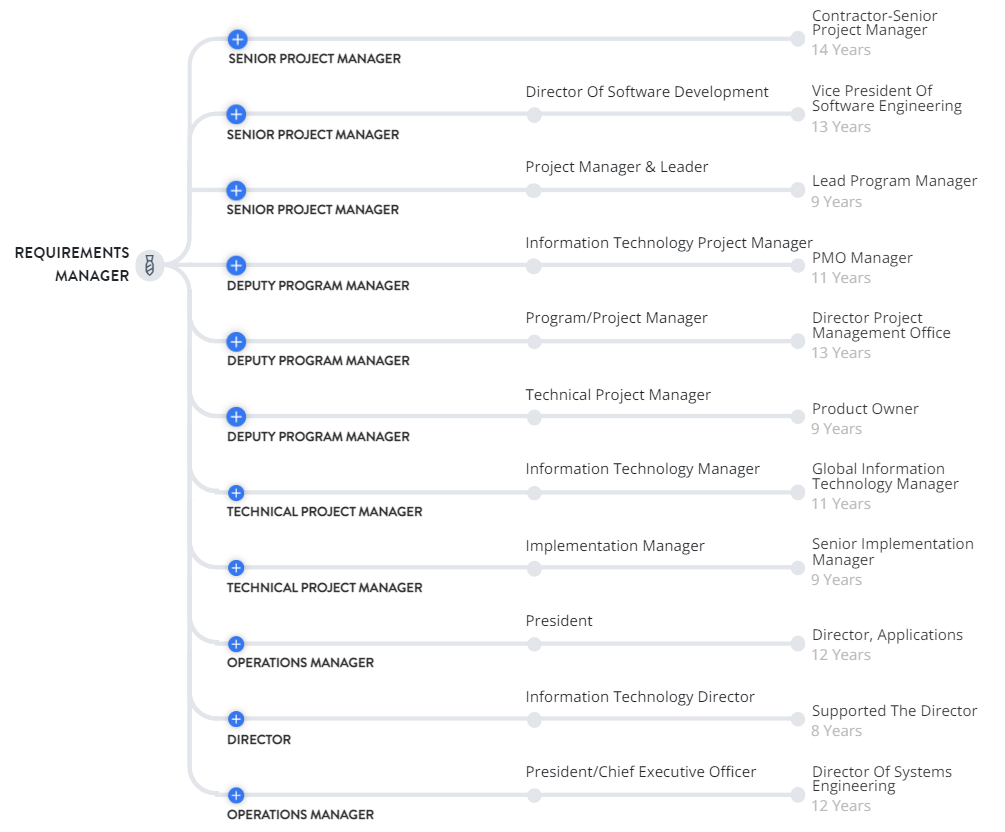 In fact, according to industry experts, here are the top 5 careers post a requirements manager stint: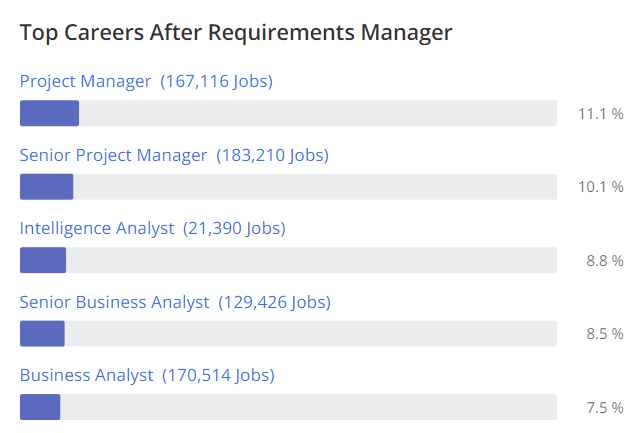 According to Salary.com, the average salary of a requirements manager is $120,325 for requirements manager jobs. The general salary ranges between $108,026 and $131,528.
Another portal estimates that freelance Requirements Managers charge about $101 per hour on average. Remember that the salary is dependent on various factors such as your education, level of experience, add-on skills, certifications, and more.
Most Important Tasks of a Requirements Manager
Looking for an accurate requirement manager job description? Keep reading. A requirements manager helps:
Formulate, review, and analyze requirements
Create requirement specifications or user stories
Reduce errors by documenting changes to each requirement in real-time
Ensure a thorough understanding of the tasks at-hand throughout the product lifecycle
Identify the potential for improvement
Optimize the requirements processes
Execute requirement reviews
Validate specifications
Ensure compliance with industry benchmarks and standards
Boost communication between all teams and stakeholders
The takeaway: All in all, a requirements manager is responsible for gathering the requirements of a specific project. They work tirelessly on prioritizing these requirements based on the ability to achieve long-term business, customer, and stakeholder goals.
Why Do We Need a Requirements Manager in Software Engineering?
A requirements manager can efficiently ensure the smooth development of complex systems, standards, and languages throughout the product lifecycle. They are instrumental in developing a robust product development strategy and can ensure timely and cost-effective results. This is done by creating an accurate and in-depth requirements specification document to build a shared understanding between the client and the development team.
Furthermore, a requirements manager factors in all areas of development, such as economic, IT, operational, security, process flows, time planning, resource planning, and more.
If you wish to ensure that your IT development team is following the customer, business, and stakeholder needs to the t and adhering to the framework conditions; you need a seasoned requirements manager on your team.
Tools Available for a Requirements Manager to Do Their Job
Luckily, there are several tools available that can aid a requirements manager in completing the job successfully. This includes tools such as Xebrio (A requirements management tool for complete traceability), Jama Software (which is great for enterprises), Visure Requirements (which is good for enterprises that need greater customization options), Codebeamer (which is ideal for out-of-the-box API integrations), Modern Requirements (another requirements management software), and more.
These tools are extremely useful for a requirements manager as they can help by performing a number of routine tasks, such as:
Gathering, analyzing, and finalizing requirements
Collecting user stories
Setting up brainstorming sessions
Creating diagrams for process flows
Creating a requirements traceability matrix
Offering useful features for reporting, versioning, and tracking to support review meetings with stakeholders
Top 5 Tips for Selecting a Requirements Management Tool
Visuals: Ensure that the tool offers great visuals and graphical UI elements–from the menu to the different elements on display.
User Interface: Understand how intuitive the tool is in terms of user-friendliness. If the tool is not easy to use and understand, it is already going to set you up for failure.
Integrations: Enquire whether the tool offers out-of-box integrations with third-party applications for increased personalization and customization.
Pricing and free trial: Finally, you must enquire about the tool's pricing and if there are any hidden costs or not. For best results, make sure to try the demo or go for a free trial version of two to three tools to see if it suits your needs and goals.
Must-have features: The tool should have key features such as the ability to:
Define and reuse requirements
Export/import requirements data to create documentation
Model relationships between requirements
Collaborate with team members during review and co-create documents
Track baselines as well as changes and provide support for different versions of a document
Conduct traceability and impact analysis
Final Thoughts
There you go. As you can see, becoming a requirements manager can be a rewarding career. Whether you want to improve your organization's product quality, ensure that the processes align with the project requirements, or enhance the communication between teams, as a requirements manager, you can deliver on all accounts. That said, you need to kickstart your journey with a fair understanding of the requirements from the very beginning, or else, your job may suffer.
Given how complex the function is, you need to upskill and arm yourself with the requisite knowledge, skills, and on-hands experience. Take a cue from the tips and tricks outlined above, and give your requirements career a boost.