Confluence is known for its ease of collaboration and compatibility with Jira; making it a preferred choice for gathering requirements from different team members. However, Confluence does come with its share of limitations when it comes to offering additional features.
Here, we have compiled a list of alternatives to Confluence for requirements gathering, so read on! You'll find five options that can suit your needs better. Each of these alternatives has its own unique benefits and advantages, so make sure to read all of them before making your decision.
What is Confluence?
When it comes to gathering requirements, many developers turn to a tool like Confluence. It's free to use, easy to install, and popular among developers. In addition, it offers a wide range of collaboration, file sharing, and version control features. If you're looking for an alternative to primarily task management tools such as Trello or Asana, Confluence may be the right tool for you. However, when it comes requirements gathering during a project, there are other Confluence alternatives that do a much better job.
So, before you decide to settle on this tool, take the time to explore other software and their features and see if it's the right fit for your project.
1. Xebrio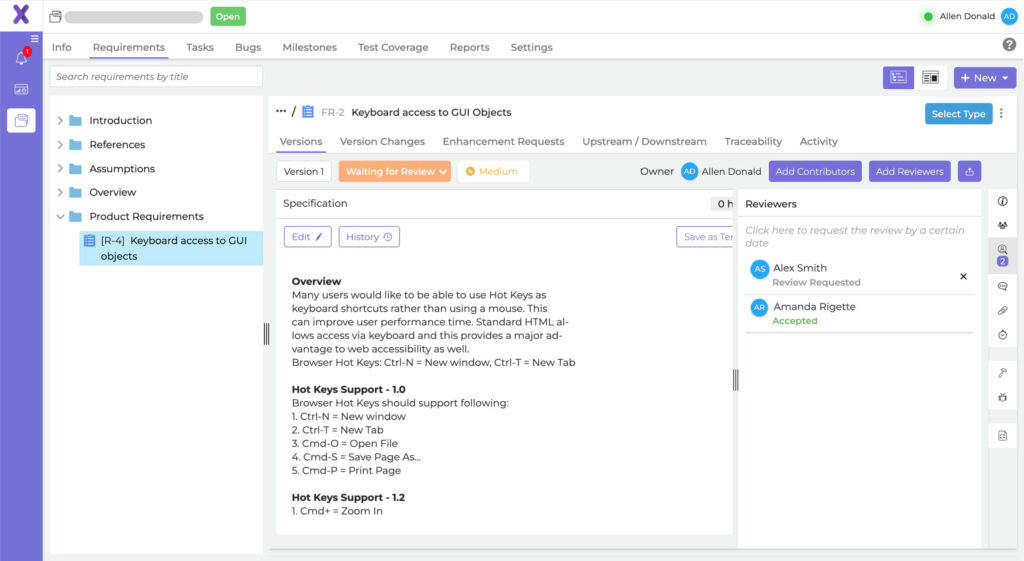 Xebrio's comprehensive requirements management ecosystem, teams can collaborate with one another to collect, evaluate, and finalize requirements.
It also includes every phase of project development, from requirements through releases. The approval workflow for gathering requirements in Xebrio enables active participation from all stakeholders, and it includes a mechanism for group approval.
Xebrio makes it easier to link requirements to tasks, milestones, test cases, and bugs. To ensure end-to-end traceability, these requirements can subsequently be linked to releases. Version tracking and version traceability for requirements as well as real-time collaboration for requirements gathering are some of the tool's important features.
The task management, test coverage, milestone tracking, and bug tracking are some of Xebrio's further noteworthy features. Additionally, the tool also includes reporting, time-tracking, and document collaboration.
Xebrio is essentially a project management ecosystem with built-in requirements management capabilities. It can be used by various industries such as engineering, HR, marketing, hospitality, and more.
Xebrio offers reduced pricing for start-ups and small teams starting at $1/user/month. For more details on the pricing plans, you can check out the pricing page.
2. Jama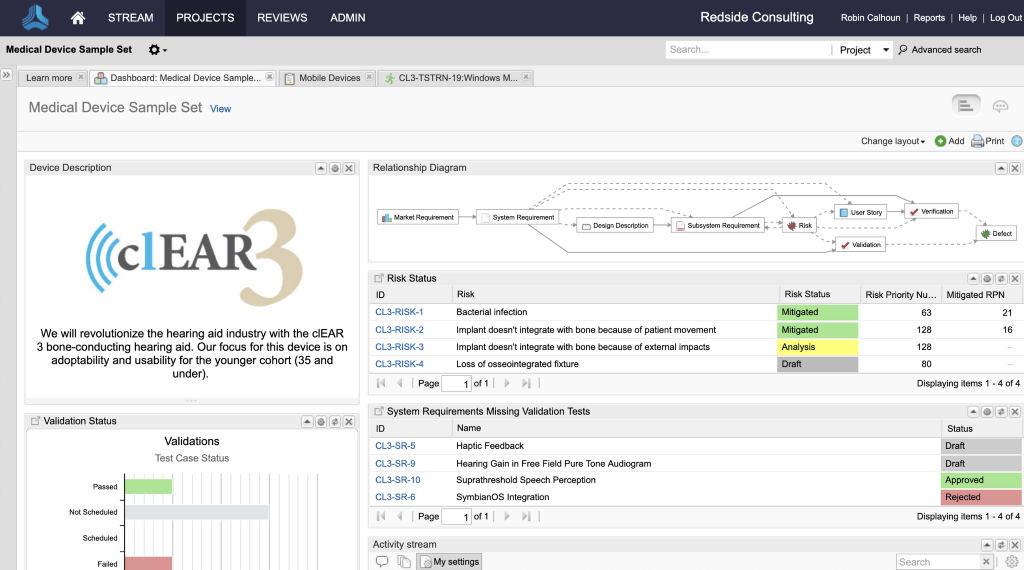 Jama Software provides a tool for managing requirements, risks, and tests. Jama helps teams designing complex products, systems, and software to accelerate cycle times, boost quality, decrease rework, and spend as little time as possible demonstrating compliance.
Throughout the development process, this enterprise-grade solution allows for the precise capture and communication of requirements, goals, progress, and interdependencies. You can better coordinate software, firmware, and hardware development stakeholders; increase productivity; control change; and demonstrate compliance.
Main features include:
Team communication, real-time impact analysis, reviews, and approvals, as well as end-to-end live traceability of people, data, and processes.
Define, arrange, and carry out requirements-based test plans and test cases.
These functions are all packed into a piece of software that can handle a variety of technical specialties and development approaches. The result is a complex product that is yet simple to use when combined with an intuitive, web interface.Teams can work in accustomed tools and contribute to projects via Jama Connect with the help of API interfaces and third-party integration hubs. A yearly subscription model is used to purchase user- and floating-based Jama Connect licences.
Pricing and trial information are available upon request.
3. Visure
Visure offers a simple-to-use, tailored solution for requirements, risk, and test management.
For teams creating complex products, systems, and software that need complete traceability from conception to testing and deployment as well as standard certification compliance, this is a must-have solution. It is a flexible and adaptable RM platform, and makes it simple for stakeholders to work together on straightforward or challenging requirements.
Visure works with IBM DOORS, JIRA, Sparx EA, TFS, ReqIF, MATLAB, VectorCAST, and other essential tools for system engineering teams. It also provides one of the best capabilities for exporting and importing from MS Office. Additionally, a wide range of project types and methodologies, such as agile, waterfall, and V model, are supported.
End-to-end traceability from conception to testing and deployment, right down to source code like Java, C, and C++, graphical representation of your workflow (data model) to enforce and protect a full traceability, one-click impact analysis and test management, and AI-driven quality analysis to automatically verify the quality of your requirements are other important platform features.
Upon request, you can obtain a 30-day free trial and examine their reasonable pricing.
4. ReqSuite
ReqSuite® RM (developed by OSSENO Software) is a robust but user-friendly utility. It offers a variety of helpful features while remaining lightweight, simple to use, and reasonably priced. It also strikes a great balance between customizability and simplicity.
This tool for requirements gathering and administration comes with a comprehensive set of configurable templates, the capacity to handle reusable requirements, the design of workflows, capabilities for teamwork, and support for automatic requirement quality checking.
ReqSuite® RM's main selling points are its simplicity of use and setup, as well as the extensive vendor support that is provided without cost. The customisation is quite intuitive but still very powerful, and the navigation makes sense.
It is well suited for all other RM use cases in typical product development or procurement projects, regardless of the industry, even though it does not provide the capabilities of a comprehensive PLM system that can scale to millions of requirements or even support all downstream development processes.
Costs for ReqSuite® RM start at 70 euros per user per month. There are 5 users in the smallest licence bundle.
5. Requirements and Test Management for Jira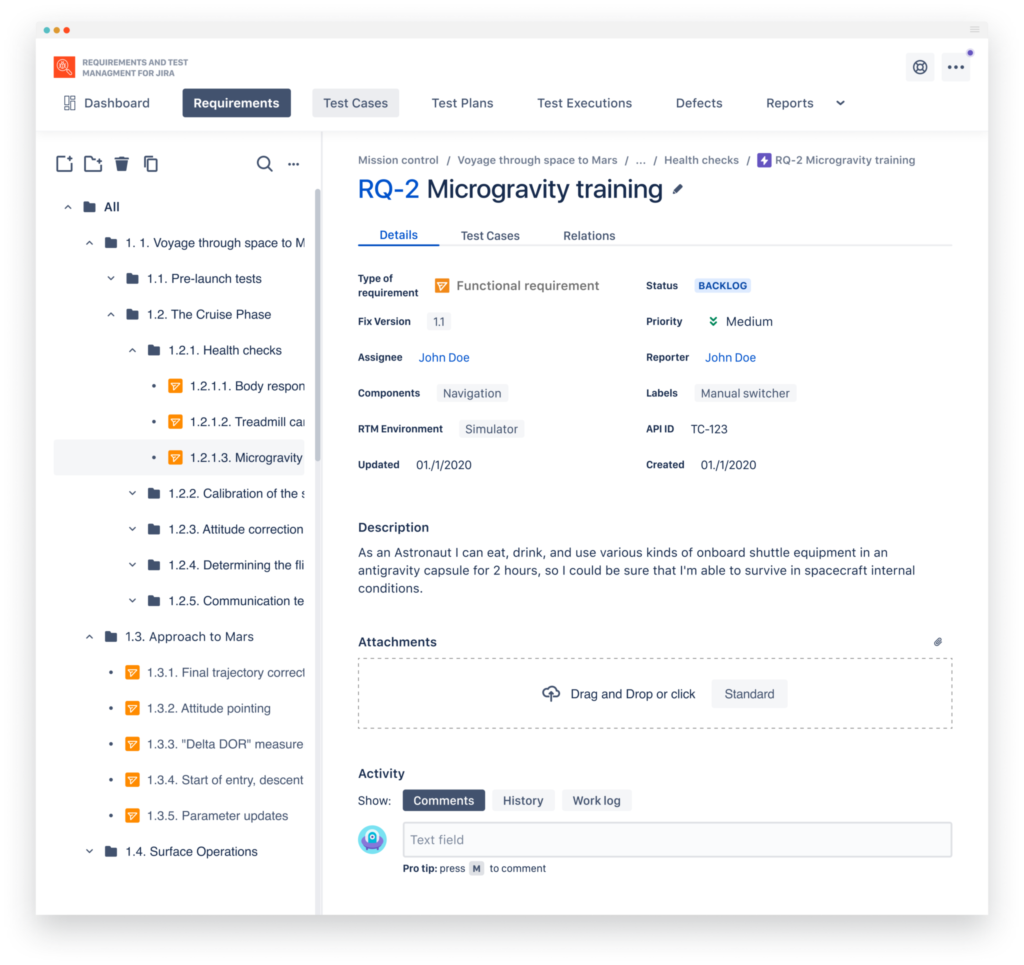 Requirements and Test Management for Jira is more than a tool for requirements management. It is an app that allows you to conduct the entire software development process directly from within Jira.
Your requirements should have a clear structure, and your testing strategy should be precise. Because they both concentrate on the quality of your product, the two processes are closely tied to one another.
Since Jira can be expanded in so many ways, you don't need to interface it with other programmes in order to have access to all the essential tools and items.
RTM for Jira will assist you in creating an environment where all of your teams can work, from requirements to release, whether you want to get rid of your present requirements management tools or are just beginning your software project.