Year after year, he has to meet a strict deadline. He needs to follow through a traditional, complex web of logistics. He has to make sure not a single delivery goes astray. And he needs to motivate a large team of reindeer and elves.
He is, of course, Santa, the world's most popular, overworked mythical project manager.
Now that 2023 is just a few days away, it's time to get into the Christmas and new year's spirit to spread goodwill and cheer and end the year 2022 on a high note.
We know that isn't always easy. You have to make a detailed, customized plan for gift shopping, schedule it before it's too late, deal with travel, and be prepared for the office 'Secret Santa', to mention a few things. What's worse is, you have to smile through the stress and continue to spread the Christmas cheer.
Perhaps not hard for project managers, you may think. After all, they are pros at smiling through stress and managing the bejesus out of things, right? But December is the most stressful time of year for 42 percent of project managers, according to a survey by MetLife
We wrote this guide especially for project managers to navigate this situation. Come, all ye faithful: read on, take a deep breath, and you'll be just fine.
What are the top project management tips for Christmas?
Let's begin with five simple techniques that will make working during the holiday season easier.
Make a List, Do Your Best
Making task lists is the first step to having a stress-free holiday season. Stress and anxiety come from fearing the unknown. To-do lists provide a clear picture of what you need to do. And knowing is the first step to doing, as indicated by multiple studies. Lists give you a sense of control and allow you to plan better. Plus, every time you look at your list, it reinforces the information in your short-term memory, making it unlikely to forget doing tasks. However, make sure to keep the work tasks and non-work tasks separate. You can use task management and time tracking software to help you organize your lists even better.
Shape Your Work, Work Your Plan
You can put this step into practice at least a month in advance. Get in touch with vendors, clients, and stakeholders and check with them about the nature and volume of work that's expected. Match this with holiday schedules. Figure out how many of your team members will be at hand. If deadlines need to be adjusted and expectations have to be realigned, now is the best time to do it. With an effective project requirement management plan, you'll have little to worry about. At the same time, don't take on everything too ambitiously. Know and respect your and your teams' limits.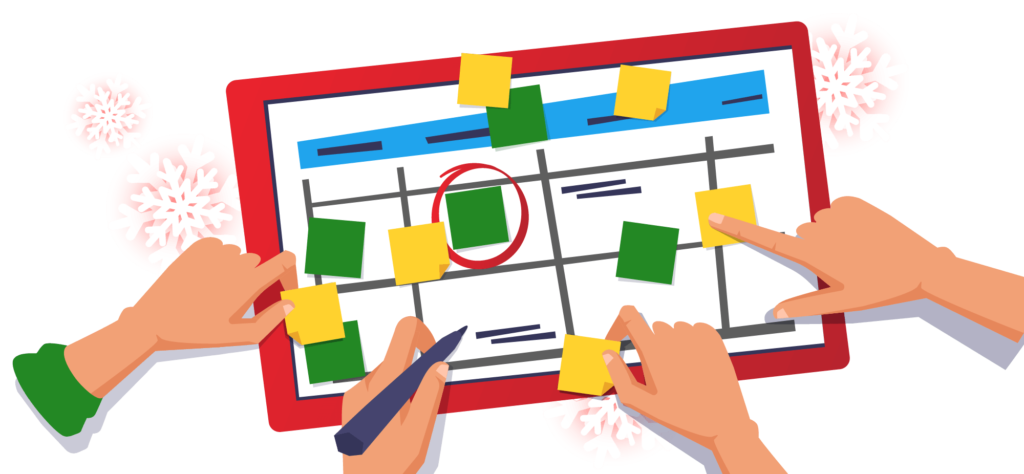 Be Generous With Information
Christmas is the time of giving, right? Well, that applies to information, too. Let all your team members know in advance what's expected of them. Encourage feedback, so you can adjust if you need to. Distribute schedules, revise them, and see which deadlines need to be met and when. In this way, you can streamline work and get time off to play as well. Your team needs to know that it's OK to take time off.
Make Meetings Fun and Productive
Get creative with meetings. Bring out the balloons and party snacks. Have an agenda ready. Recognize all those who have worked above and beyond the call of duty. Engage everyone is some fun team activities. And most importantly, keep meetings brief and have a clear plan of action.
Be Kind to Yourself and Everyone Around You
Be nice to yourself. Don't let the winter blues affect you. Slip in a fun task, a little treat, or a leisure hour every day to make sure you are not stressed, overwhelmed, or stretched too thin for the days that matter. Similarly, make sure you don't let stress manifest in a way that pains your teammates.
Spread Cheer and Goodwill
The office can be the last place one wants to be during the holiday season. But you can make it enjoyable and more productive. Give out little surprise gifts for no reason. Distribute candy. Laugh at others' jokes, even if they're not funny. The best thing about such behavior is that it's contagious. Before you know it, you'll have a pleased and motivated team ready to go.
12 Gifts and Tools for the 12 Days of Christmas
'The 12 Days of Christmas' is an old cherished Christmas carol. There is just so much joy the very idea of giving twelve gifts for the 12 days of Christmas brings. Although project teams cannot expect a candy-filled advent calendar, there's something else they can get from project managers! But here's how to use it to your advantage during the holiday season. No, you don't need to hand out a partridge in a pear tree to your team. (Although that might be fun.) Instead, consider the following.
1. On the First Day : Encouragement and Motivation
Get everyone together and make clear that they're all on the same team. And encourage them to do their best, knowing that you'll always have their back.
2. On the Second Day : Tools and Technology
Updated software. New apps. Communication know-how. All of these are essential for projects to move forward, and you ought to make sure they're available.
3. On the Third Day : Responsibility and Flexibility
The great thing about delegation is that it frees you up to focus on what's important, and it also makes your team members grow. Hand out clear-cut responsibilities and allow a little elbow room for them to make their own decisions.
4. On the Fourth Day : Discipline and Deadlines
Projects don't get completed magically, although it would be great if they did. You need to be both clear and firm about the importance of meeting project deadlines, and perfectly aware of who does what, and by when.
5. On the Fifth Day : Communication and Feedback
Talk to your team often. Make sure they talk to each other, too. And be honest and fair about opinions. It's only by sharing points of view that everyone looks ahead at the same destination.
6. On the Sixth Day : Schedules and Resources
We know, we know. Resources are limited, and schedules are fixed. But within this framework, there's freedom for you and your team to handle the project the best way possible.

7. On the Seventh Day : Costs and Negotiations
Your team needs to see the value of bringing in a project not just on time but within budgets too. Negotiation, also, is a skill: give your team the resources necessary to handle this well.
8. On the Eighth Day : Thinking and Decision Making
With all the rush and fuss of the holidays, it's easy just to keep on laboring as and when tasks get allotted. But you and your team should pause every now and then to think, and then to decide. As they say, a stitch in time saves nine. Make sure that you free up some time for this to happen.
9. On the Ninth Day : Humour and Patience
The best way to handle stress is to smile at it. Keep it light with your team, understand their hurdles, and be prepared to wait. They'll love you for it.
10. On the Tenth Day : Expectations and Reality
You probably already know that one of the critical features of a successful project management plan is that everyone understands precisely what's expected of them. Communication is key. But also keep them informed of changing circumstances, so they know exactly what to do.
11. On the Eleventh Day : Milestones and Destinations
Every project can be broken up into little steps, and when you reach them, make sure to celebrate. This is a powerful motivator. And no, it doesn't have to be a full-fledged party. It could even be handing out doughnuts for every successful step. (Try the ones with blueberry jam, they're addictive.)
12. On the Twelfth Day : Honesty and Rewards
Finally, and importantly, honesty is one of the traits every team loves about a project leader. Match this with fairness, and you'll be a winner. Don't forget to reward people for work well done – from a pat on the back to a bonus, a little goes a very long way. Oh, and a great Christmas party can bring people together like nothing else can.
Get Ready. It's Almost Christmas!
Christmas is a time that's full of paradoxes for a project manager. It can be fun, joyful, and exciting. It can also be demanding, frustrating, and delay-causing. But with some faith and with a few simple tips, you can overcome the challenges and have a great time doing so. If Santa can do it, so can you! So, grab a glass of eggnog, bust out some Christmas tunes, and have a jolly time!
We wish you a Merry Christmas, and here's hoping that all your projects be completed on time and with good cheer.