Is your business facing some serious issues like loss of productivity, wastage of resources, miscommunication, burnt-out employees, and delayed projects?
If yes then there are good chances that you are not using a top-rated business management software and your business's struggle to stay competitive and profitable in this tech-driven age continues.
In this dynamic world we live in, businesses simply cannot afford to rely on outdated tools and techniques that are well past their sell-by date. Consider manual entries, over-reliance on emails, spreadsheets, and paper files as some examples.
What do you think made you switch from a keypad phone to smartphone? Ease of usage, convenience, and heaps of features, right? You got the answer. The same applies to using the latest technology for your business.
No idea of what a business management tool is and its importance?
Read on and you'll get a clear picture.
What is a business management software?
As businesses begin to scale up, managing clients, teams, and business processes becomes increasingly challenging. Things can become complicated and before you even realize, you lose control over both human and other resources. Your revenue figures hit rock bottom and the employee churn rate gets high.
Business management software can help businesses overcome such challenges by offering a host of advanced work management features under a single umbrella. These features help users efficiently manage various aspects of their work, like project planning, file management, task management, time tracking, note-making, etc,.
Business management software can be industry-specific or designed to be used by different types of businesses. As mentioned earlier, there's no single business management app that serves as a "one-size-fits-all" solution for every use case.
Different types of business management software
There are different types of business management software available today. So, it's important for individual businesses to be aware of their requirements and choose a solution accordingly.
Some common examples are:
Project management tools
Workplace communication software
HR software
CRM software
Time tracking software
Web tracking software
Invoicing software
Social media scheduling software
What are the risks of not using business management software?
It's evident that businesses need to upgrade their working processes and incorporate the latest technology to yield the desired results. Failing to keep up with changing trends in the modern business environment can lead to a series of issues for your business.
1. Missed deadlines
15% of workers miss their deadlines due to factors like participating in a series of meetings, unclear job responsibilities, uneven workload distribution, and poor time tracking. Do you know that a good business management software can help your team members overcome such challenges and stay on top of their schedule?
On the other hand, not using the right tool can result in a lot of confusion prevailing among team members. When people don't know what they are supposed to and when, it's likely to result in inefficient resource utilization, miscommunication, and project delays.
2. Scattered files and documents
Creating and organizing paper files and documents to manage different types of work usually takes up a considerable amount of time and efforts of your workforce. There's a potential risk of physical damage or risk of theft to such business assets. The most challenging part that people face while using tangible documents is in collaborating for reviews, feedback, and approval.
Paper-based systems limit collaboration to a great extent because transporting documents is slow, complicated, and inefficient. There are high costs associated with using paper-based document management systems as you would need printers, photocopiers, stationery and other office supplies.
3. Lack of job accountability
When there's no centralized software for project planning, task allocation and tracking, and setting deadlines, people have no clue on what to do next. As a result, procrastination creeps in, which further results in the loss of productivity, poor quality work, and the lack of job accountability among your team members.
Unfortunately, the lack of a strong culture of accountability dents your business's credibility. Your business is likely to face various challenges in the form of low employee engagement, low morale, ineffective execution, high turnover, and non-existent mutual trust between the senior management and employees.
4. A lot of time wasted planning and tracking resources
Using spreadsheets for project planning and tracking resources is a tedious, time-consuming task. Without an intuitive and easy-to-use work management system that allows you to plan projects and track resources with features like Gantt charts, Task management, Board view, Scheduling calendar, etc.
It's easy to become overwhelmed, especially when projects and teams become more complex. However, by implementing an employee GPS tracking system, you can simplify your project management tasks and better allocate resources to ensure success. You can read more about how employee GPS tracking works and be sure to balance the benefits of GPS tracking with employee privacy concerns and ensure that any monitoring is done in a transparent and ethical manner.
When you can't visualize your resources and their activities, you're working in the dark. Vagueness surrounding project progress and resource availability means you'll only end up working harder and investing a lot of time into planning and tracing your resources.
5. Failure to meet stakeholders' expectations
The failure of companies to meet set priorities, utilize available resources efficiently, and a fast-changing business environment leave stakeholders with no other option but to create and roll out their own timelines, schedules, and expectations.
Stakeholders stop showing trust in your business as it fails to meet their expectations, and eventually lose interest.
6. Below-par productivity
Relying on manual work processes leads to mental and physical exhaustion of your staff, which adversely impacts their quality of work over a period of time. Continuous stress also increases the chances of a potential employee burnout. Lack of task prioritization results in your employees investing precious time on low-priority tasks that deliver little to no value.
Consequently, your team members are left with little time to perform high-priority tasks, which can make them cut corners to avoid missing deadlines. Though your team is able to deliver projects on time, the quality of the project leaves a lot to be desired and your clients are left disappointed.
What are the benefits of business management software?
You've read about what business management software is, its types, and the pitfalls of not implementing it to your business's daily operations. Now we'll take a look at how this software solution can benefit businesses in myriad ways.
1. A shared unified system
Business management software offers a single collaborative platform where your entire team gets together to easily access and collaborate on assigned tasks and projects. Your business can control various aspects of project management from a centralized location through a suite of features in one place. You don't need to use different tools to perform different activities.
For example, you do not need to use separate tools for time tracking, online proofing, and instant messaging as you get all these features through one powerful business management tool.
2. Nothing important is missed
It's common for project managers and their teams to lose track of some crucial tasks as they juggle multiple tasks at the same time. When you think you have finished a project, you find out that you've missed out on a couple of important tasks. This is where business management software helps you and your team with features like scheduling calendar, automatic reminders, and recurring tasks.
You can set automatic reminders to tasks, which ensures you don't miss out on anything important. Similarly, the scheduling calendar helps users bring all their tasks, events, and milestones in one place. You and your team can stay on top of deadlines as you can visualize all your to-dos in one place.
3. Optimal team collaboration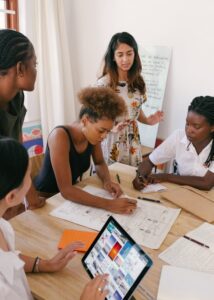 Business management software keeps your team together irrespective of diverse geographical locations and time zones they might be working from. A suite of features help both in-office and remote teams coordinate efficiently among themselves as well as clients and stakeholders. Your every team member is on the same page and there are no communication loopholes.
You and your team can exchange work-related information, collaborate on files and documents, track tasks and projects, and stay updated on all recent activities within a project.
4. Streamlined work processes and improved workflows
One of the main benefits of using business management software is it helps businesses to streamline work processes and improve workflows. As a result, the chaotic work system is replaced by a well-planned, sequential series of steps that help businesses to create a quality final product.
Improved workflow efficiency also results in a happier, engaged workforce because unnecessary steps or manual work are removed, which saves their time and efforts.
5. Enhanced customer satisfaction
A frequently cited benefit of business management software is improved customer satisfaction. When work is done faster, projects are delivered on time and under budget, which leads to satisfied and happy customers. And the good news is that happy customers come back to you with more work, which is a healthy sign for any business.
Business project management software offers a list of tools that allows both clients and project teams to stay on the same page and share necessary information to make projects are executed as per client requirements.
Top 3 Business Management Tools for Every Business
You've read the benefits and risks of not using a top-rated business management software. It's likely you are considering choosing one for your business, but facing the dilemma of which tool to choose as there are so many options available.
Relax. Have some coffee and let us do the groundwork for you. We have listed three of the best tools that can help businesses across various industries with efficient resource utilization and improved productivity.
Each of these tools help businesses control various aspects of their daily operations in the most efficient way possible. Let's check them out.
1. ProofHub (Project Management and Team collaboration)
Is your business facing chronic issues like missed deadlines, unorganized projects, time wastage, and miscommunication? If yes then ProofHub is an ideal solution that helps businesses end chaotic work processes and streamline workflows to achieve optimal resource utilization and productivity. This easy-to-use, intuitive tool enhances team collaboration and helps project managers have ultimate control over project progress from a single place.
What makes ProofHub click than other PM tools? The answer lies in its simplicity and a list of essential business management features that eliminate the need to invest in and switch different tools. With advanced features like Task management, Instant chat, Multiple project views, Online proofing and many more, your business will register a significant improvement in organizational transparency, job accountability, time management, and consistency in daily productivity.
Main features include:
Keep track of the time spent on tasks both manually and using timers with Time tracking.
Upload and organize all your digital files in a centralized location with File management.
Personalize your account to match the look and feel of your brand through White-labeling.
Eliminate cluttered inboxes and get tickets, support queries, and work requests directly added to ProofHub with Forms.
Create unique workflows to match your work structure with Custom workflows.
Take notes, organize them in notebooks, and easily collaborate on them with others with Notes.
Pricing: Flat pricing plans. The Essential plan is priced at $45 per month when billed annually. The Ultimate Control plan is priced at $89 per month when billed annually. Unlimited users are allowed.
Free trial : Yes (14-day)
2. Bitrix24 (CRM software)
Bitrix24 is a popular CRM software that serves as a single platform for businesses to help them manage leads, engage with clients, and close deals. If you are looking for complete control over sales processes, lead acquisition, and customer service then Bitrix is just the CRM tool you need.
This online CRM software offers more than 30 tools for sales, administration, and marketing teams and enables businesses to manage current and potential leads in a unified platform covering the entire sales funnel. The tool offers unique CRM solutions for different teams to help them track their sales pipeline, automate marketing, and offer custom support through a suite of communication channels.
Main features include:
Create detailed Sales reports for clients and management while saving time and energy.
Lead management helps you track leads through the sales funnel and capture leads through web forms.
Marketing automation features help you create email marketing campaigns and send them out on a schedule.
Multichannel communication keeps everyone on track and informed with live chat, comment boxes, and built-in telephony services for web calls.
Workload management helps you monitor project activities, receive work reports, and evenly distribute workload.
Omni-channel marketing helps you reach out to your potential and existing clients via the most effective channel.
Pricing: The Basic plan is priced at $49 per month for 5 users. The Standard plan is priced at $99 per month for 50 users. The Professional plan is priced at $199 per month for 100 users.
Free trial: Yes (free forever)
3. inFlow (inventory management software)
inFlow is an inventory and order management software for small and medium-sized businesses that offer you all the tools you need to track products quickly and accurately. This quick response tool can store and retrieve warehousing-related information on the go. Inventory features allow you to scan and receive/fulfill orders even when you're on the go, from your mobile device.
inFlow helps you with onboarding customization, which allows you to customize the product to suit your specific business needs. You get solutions for barcoding, sales, and purchasing while inbuilt analytical reporting tools enable you to optimize your daily processes. The tool also has a backup system for easy information retrieval if and when the computer drive suffers damage or theft.
Main features include:
Real-time inventory control helps you record data every time you receive and fulfill orders while tracking costs and profit.
Generate barcodes and design labels for every product, and save time with every scan.
Manufacturing software reduces manual checks by updating inventory in real-time, and you can create assemblies or kits while tracking your costs.
Selling and Invoicing help you sell, ship, and invoice in one place.
Purchasing and receiving gives you a detailed picture of your stock – which products you have, how many are on the shelf, and in-transit.
B2B portal makes it easy to create rich product catalogs you can customize and share online.
Pricing: The Entrepreneur plan is priced at $110 per month for 2 team members. The Small Business plan is priced at $279 per month for 5 team members. The Mid-Size plan is priced at $549 per month for 10 team members.
Free trial: Yes (14 days)
The Final Thought
So, the bottom line is you cannot take your business to the next level by continuing with outdated, manual processes. Thriving businesses quickly adapt to changing work environments and using a top-rated business process management software can help your workforce realize their full potential.
The software helps businesses and their teams to organize and streamline their daily work processes, eliminating unnecessary procedures, cutting down resource wastage, and providing users with a comprehensive visibility of all their tasks in one place.
Author Bio
Nandini Sharma is a marketing manager at ProofHub. This powerful asana alternative is designed to enhance productivity at work. She always strives to bring a refreshing perspective to her work and writing, making her a valuable resource in the field of project management. When she's not busy working, you can find her indulging in her love for reading and creating handcrafts.