When it comes to gathering requirements, many developers turn to a tool like Modern Requirements. It is a user-friendly software The solution enhances stakeholder and team communication by specialising in requirements management and facilitating data access. This is accomplished via a complete solution that takes care of requirements collecting, analysis, and authoring.
However, it is also a very expensive requirements management software that is difficult to subscribe to for smaller organizations. It also lacks certain important features that project teams look for in a requirements management tool.
Here, we have created a list of best alternatives to Modern Requirements so you can take a look at and make a decision easily.
1. Xebrio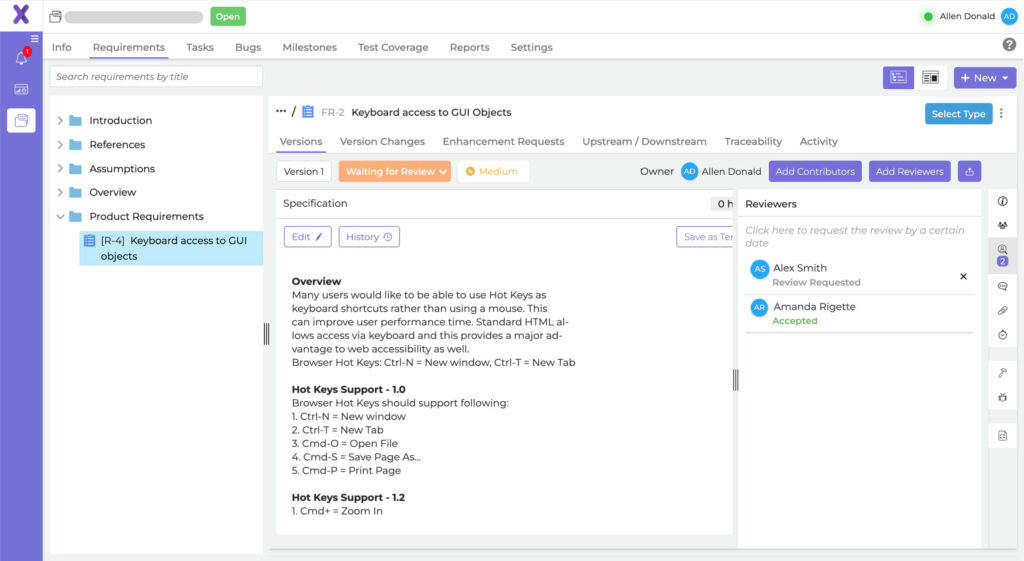 With Xebrio's requirements management feature, users can gather requirements and, via careful stakeholder participation, get them reviewed and accepted. You can map, classify, and order by associating requirements with tasks, checkpoints, and test cases. Xebrio allows users to track the progress of every requirement right up to the releases with the end-to-end traceability feature.
The requirements versioning feature allows users to track version changes and gain transparency into the project. With an approval workflow, the stakeholder can review and approve requirements, after which the teams can start their projects. The bug tracking feature lets project teams raise bugs during their testing lifecycle. With Xebrio, you can create data reports and insights.
This all-in-one requirement management solution is your best bet whether you work in the IT, marketing, electronics, or the healthcare sectors.
2. SpiraTeam by Inflectra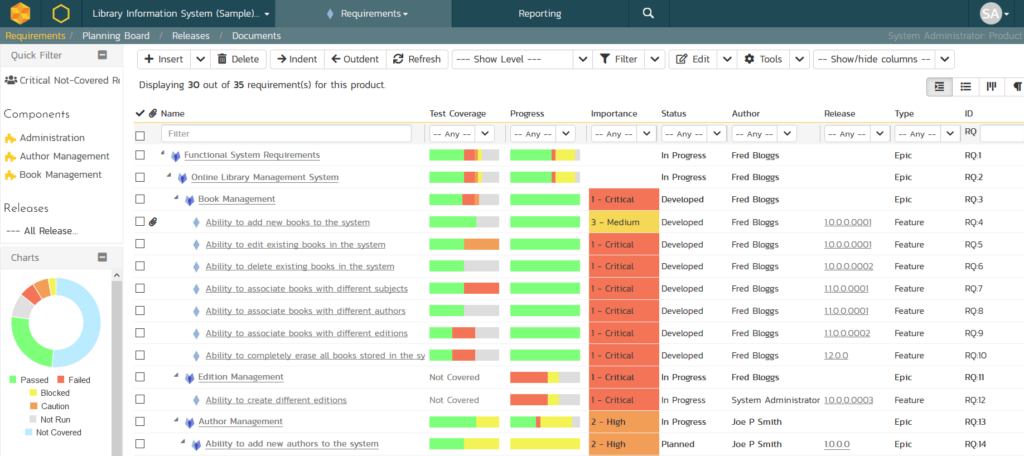 Inflectra's SpiraTeam is an integrated requirement and quality assurance system. This complete platform is perfect for regulated businesses with required end-to-end compliance traceability and audit trials. At the portfolio, program, and product levels, SpiraTeam assists agile teams of all sizes in managing their software development and testing lifecycle. Managing project requirements, test cases, defects, and tasks is simple with SpiraTeam. Teams can manage changes and maintain quality throughout the product development and testing cycle with the help of agile planning, baselining, strong configuration management, Source Code management, and document collaboration capability. Built-in traceability and compliance tools, including electronic signatures, task and workflow management, requirements mapping, and version control, are available with SpiraTeam. Its executive dashboards and robust reporting engine offer visibility across product definition, design, construction, and testing phases and highlight team relationships and dependencies. The platform is available both on-premises and in the cloud, and it interfaces with more than 60 commercial solutions (AWS or private cloud).
The starting price is $42 per user per month. A 30-day free trial is available.
3. Jama Software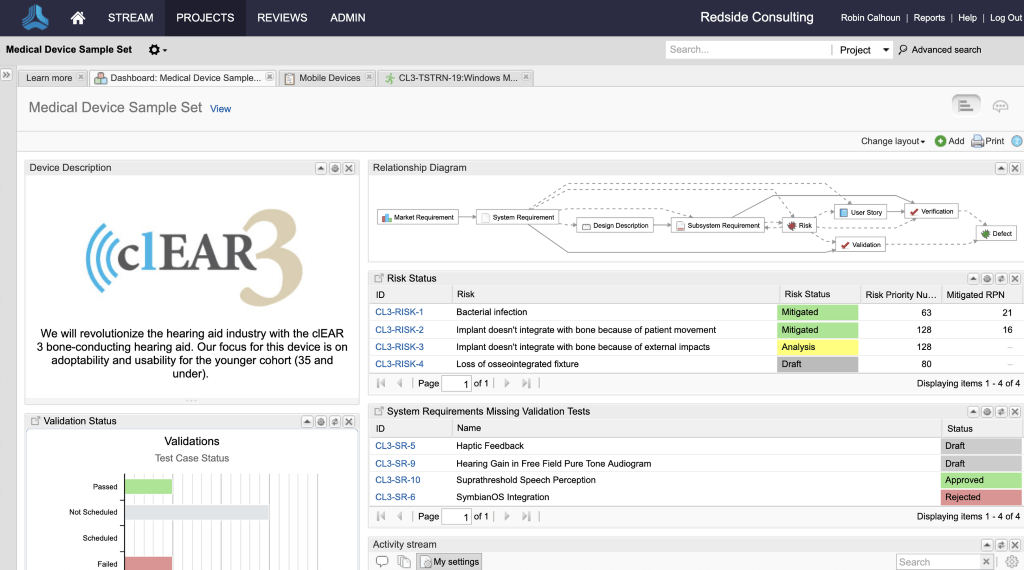 The hardware and software teams can integrate isolated development, testing, and risk management operations using the product development platform Jama Software to enable end-to-end compliance, risk mitigation, and process improvement. The platform enables users to create, align, and carry out projects, reducing time-consuming cycle times, the effort required to demonstrate compliance and unnecessary rework. Jama Connect features traceability that makes it possible to manage complicated processes while supporting numerous concurrent development techniques. The technology boosts trust in compliance with rules, gets teams up and running quickly, and enables teams to demonstrate to auditors how decisions were taken via reports.
The price per identified user per year starts at $700.
4. Visure
Visure Requirements is a flexible and complete requirement engineering lifecycle solution capable of streamlining requirements processes, allowing more effective collaboration and increasing quality. Visure offers complete traceability, risk management, test management, bug tracking, requirements testing, requirements quality analysis, requirement versioning and baselining, and powerful reporting in multiple file formats. Users can set up role-based permissions, compare versions and configure process workflows. Data analysts can create relationships, generate hierarchies, manage traceabilities and automatically capture requirements from MS Excel, Outlook, and MS Word. Visure supports standard compliance templates for ISO 26262, IEC 62304, IEC 61508, CENELEC 50128, DO-178B/C, FMEA, SPICE, CMMI, etc. The platform integrates with several third-party solutions, such as Accompa, Jira, MS Sharepoint, and Salesforce.
Pricing information is available on request.
5. ReqView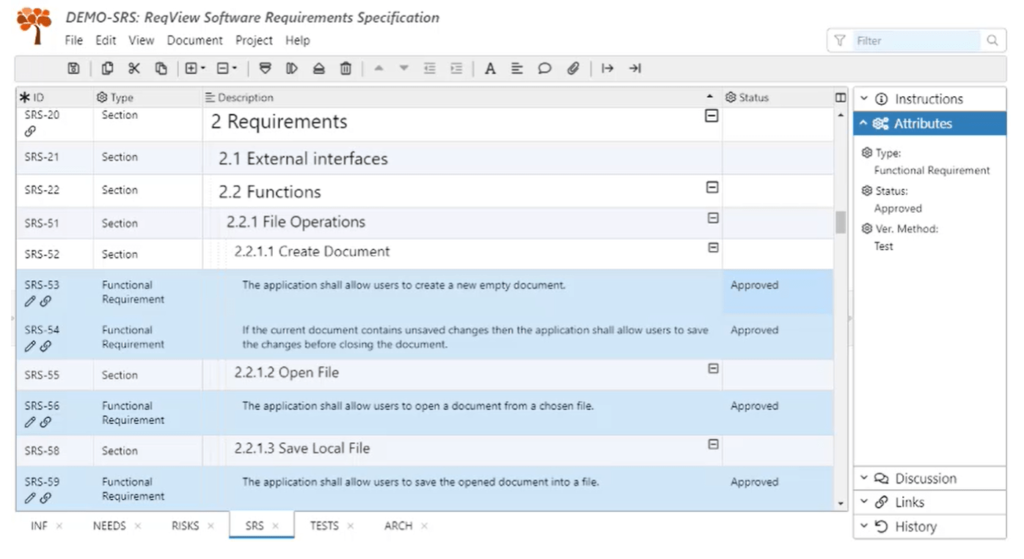 ReqView is a user-friendly requirements management tool for maintaining traceability between product requirements, design, tests, and hazards. It is used to capture structured requirements for software or system products. Users of the platform can use editable templates, PDFs, texts, tables, photos, and other types of media to record requirements. Users can attach verification and validation tasks to project characteristics in ReqView, configure project attributes based on processes, and grant team members role-based rights. The software enables you to monitor goals, hazards, and revisions while ensuring compliance with safety requirements. ReqView enables businesses operating in regulated sectors to manage requirements in accordance with a number of international or sectoral standards, including ISO/IEC/IEEE 29148-2018 for requirements engineering, life cycle management, and systems and software engineering.
ReqView has both, on-premises and cloud options available.
Pricing per feature, per year, begins at $390/year/user. Free trial is available for 14 days if you want to try advanced features.
6. Orcanos
The Requirements Management Tool from Orcanos was created to make tracking requirements easier. The platform provides a one-stop shop for handling requirements, with capabilities like test management, collaboration, and end-to-end traceability. The tool is a straightforward and effective choice for managing traceability matrices between any ALM or QMS asset. Users and stakeholders may easily respond to quality processes like requirements, test cases, FMEA risk items, customer complaints, CAPA compliance, and more thanks to the Orcanos Requirements Management tool's straightforward design. With only one click, Orcanos produces actionable data by integrating risk management into the various phases of product development and QMS processes.
You can schedule a free demo to understand their features and pricing structure in detail.
7. Accompa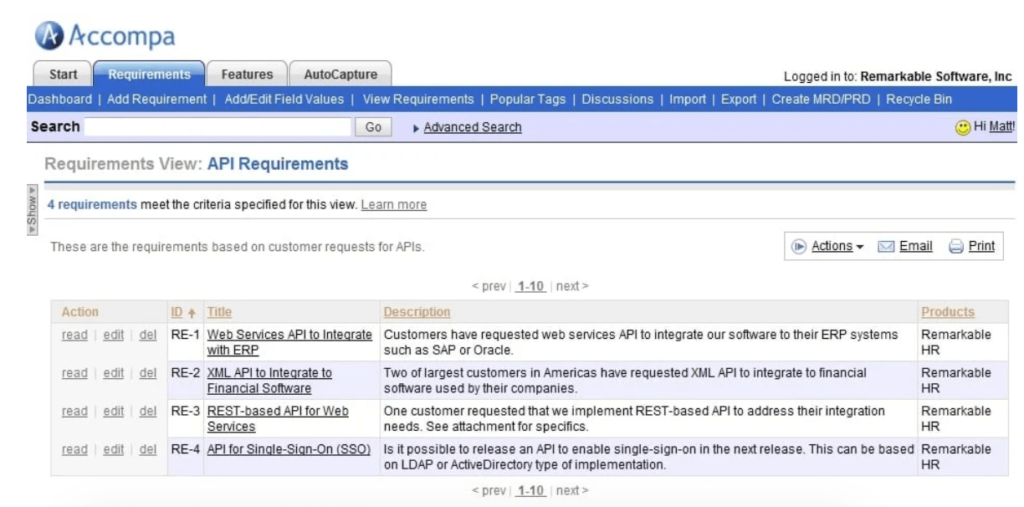 Product managers, business analysts, and engineering teams can all benefit from using Accompa to streamline the requirements gathering procedure. Teams can easily prioritize their work and collaborate by using discussion threads. Additionally, Accompa is a cloud-based solution jam-packed with capabilities that will enhance the way you write your requirements.
Accompa is capable of handling hierarchical requirements. For easy searching and integration with other tools like bug trackers, test case management systems, and more, group and organize your needs.
With Accompa, users can track changes easily with change management feature. They can also automatically track versions of their requirements with the requirements versioning feature.