Anyone who is brave enough to venture into the murky waters of project management appreciates how it can throw countless curveballs almost every day and gob-smack even the grayest, most seasoned project managers, and knows that all of us need a helping hand every now and then.
So, as much as I willingly partake in everyone's favorite kind of light, harmless fear-mongering (read: Technology is evolving to take our jobs).
On a serious note, I am completely for giving your team a power-up with technology.
Hey, after all, Iron Man without his suit of armor is just Tony who is a lot less cool and 'super' right?
What I mean is, if you want to be Superman(ager), you'll need project management software.
Which is the best project management software?
This becomes a very subjective question since there cannot be a "one-size-fits-all" project management software.
A better question would be, What is the best project management tool for my project?
(Tip: Choose project management software very carefully, it could really make or break your project. A popular survey suggests that investing in the wrong tool means you could lose 9.9% of every dollar you spend as a result of poor project performance.)
Having used a variety of project management software for a variety of projects, I can attest the aid of that specific app specific concerns. But, there are a few things that are good project management software must-haves.
Here's that list so that whenever you look for new software, you can just check these off.
Requirement tracking
Task delegation and tracking
Real-time collaboration capabilities
Customizable workflows
Time tracking
Bug, issue, and defect tracking system
Reporting and Visualization
Ease of use
If I were to pick the top ten that fit the most common types of projects well, I would pick these:
1. Xebrio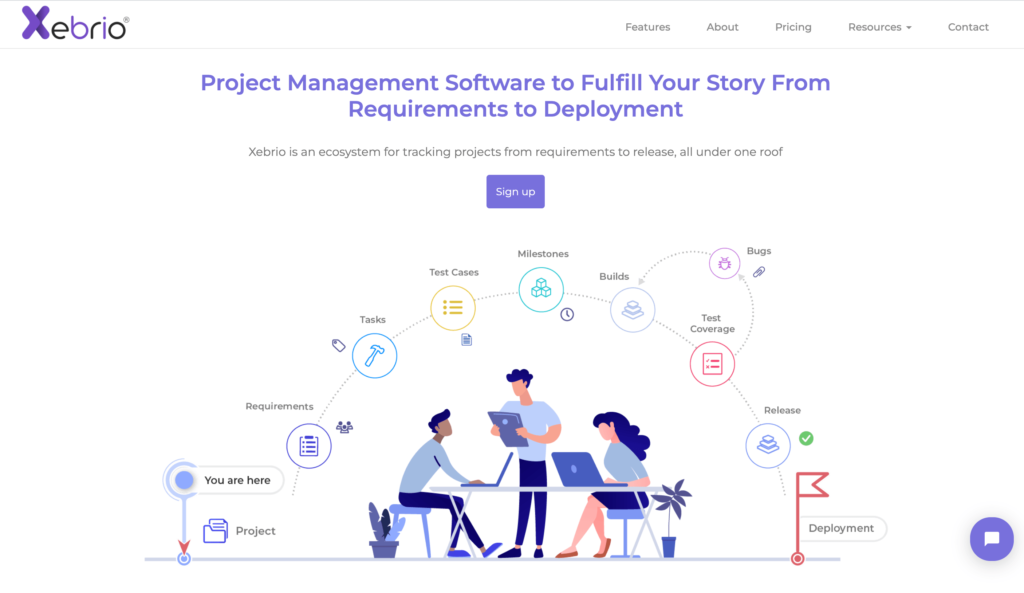 Xebrio is a project management software which covers every phase of project management- from requirement management to deployment. Xebrio helps teams achieve maximum productivity with extensive task management, collaboration, communication, test management, bug tracking, release management, and comprehensive reporting capabilities, with all under the same roof. Being very intuitive and user-friendly, the learning curve for Xebrio is relatively less in comparison to similar project management software.
If you are looking for project management software and don't intend to use too many third-party plugins, then Xebrio is your best bet.
2. Jira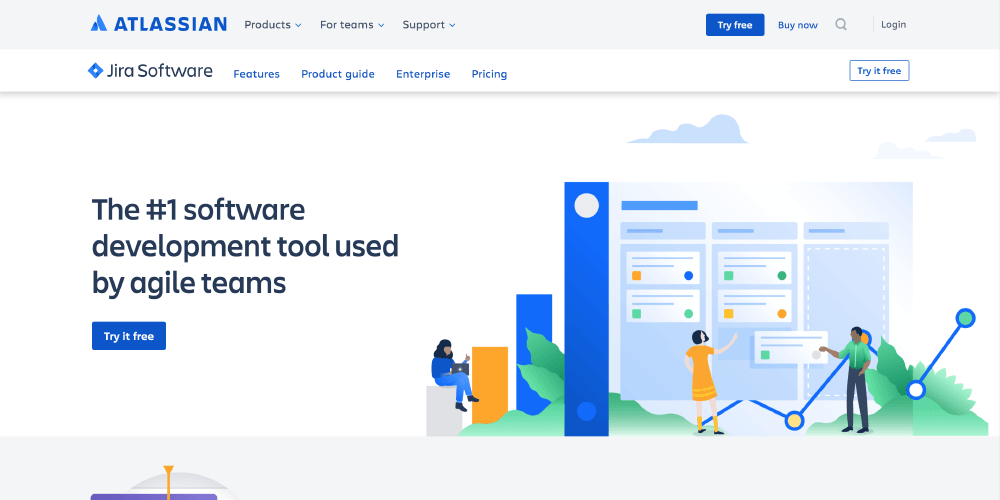 Jira is an advanced multifunctional software and a highly customizable project management system that allows you to micromanage tasks in a project.
Jira manages your workflow efficiently and enables collaboration, as well. It has a host of features and can be used for portfolio management. Jira is the tool for you if you already have a well-established Agile process in place.
What's great about Jira is, it comes with a lot of add-ons, plug-ins, integration options, and whatnot with products from Atlassian's own suite to third-party apps as well.
But the functionality-oriented Jira has a steep learning curve. I think it can get a little overwhelming for non-tech-savvy users, based on first-hand experience.
3. Wrike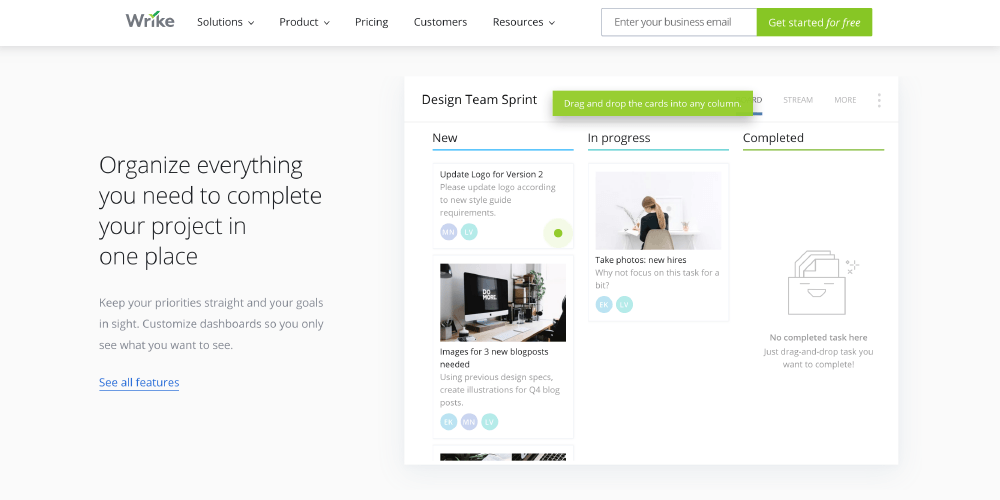 Wrike seems to be designed especially for large companies and large teams managing numerous projects simultaneously.
It allows multifunctional groups to centralize and track projects easily. You get the flexibility of project management regimes with Wrike – you can manage projects with the waterfall model, Kanban (boards), or even scrum.
It enables clear visibility into project operations and allows teams to share files quickly and securely, partly because Wrike has a super-intuitive, easy UI.
These days, when we toss away unsatisfactory software faster than a buttered bullet, user-friendliness becomes a game-changer.
That said, the setup can really be daunting, especially since the orientation instructions are not that clear. One thing I do not enjoy is alerts popping up on screen every so often, and Wrike has a number of alerts. It serves well for some, but I certainly would have liked to be able to mute or customize them.
4. Asana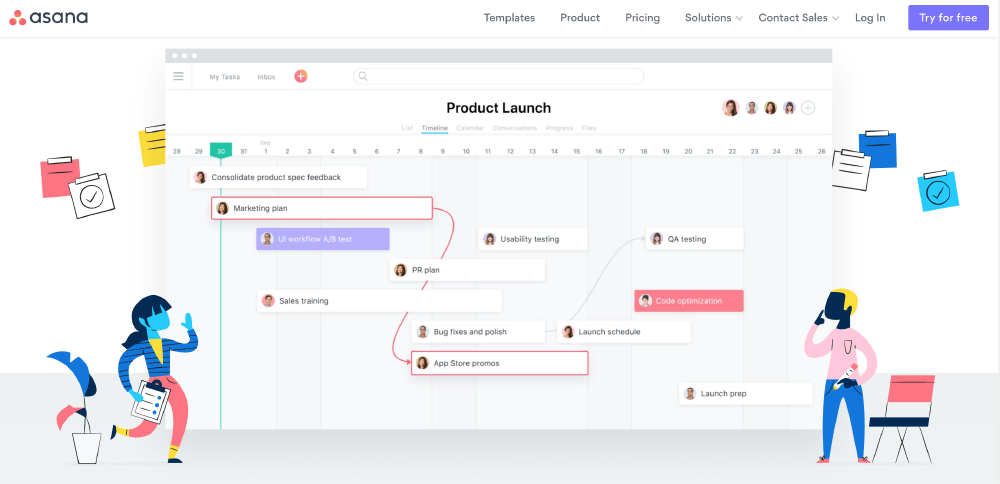 Asana is a very popular tool. It didn't take much time to infiltrate the young and millennial start-up scene given its "in" aesthetic, flexibility, and ease of use. It is primarily a task management software that mainly focuses on how you organize task delegation and track the workflow.
Asana is refreshingly customizable, adapts to change, and is excellent for collaboration. The UI is extremely engaging, and with its little animations and messages, task management in Asana quite fun. Truth be told, Asana is terrific for marketing teams, but, not exactly the best fit for software teams. Fair warning: Asana feels like a maze at times, and can be a little overwhelming for new users.
5. monday.com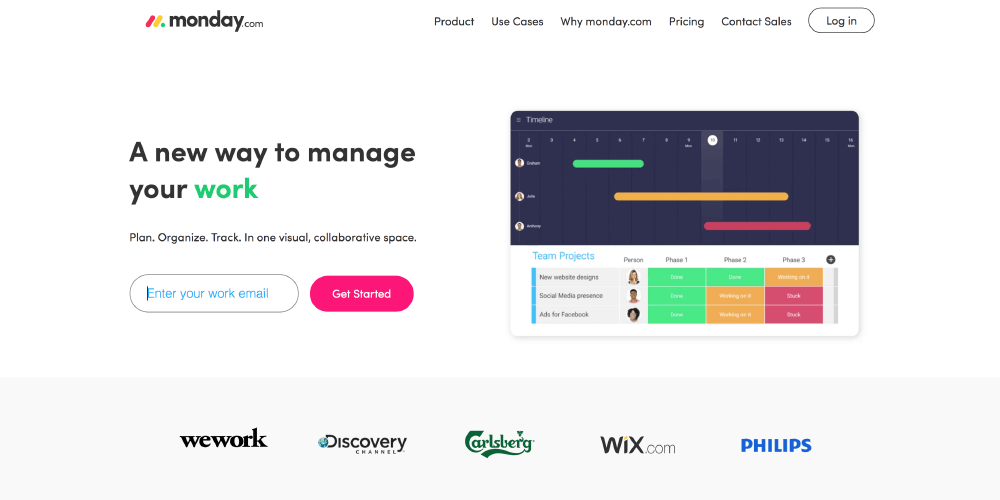 monday.com (formerly daPulse) is a highly customizable project management software that absolutely wins at task management, collaboration, and resource management.
monday.com is exceptionally easy to use, with a very intuitive and user-friendly UI, and clean website design. It is just so pretty to look at!
What's more? You can integrate monday.com with various third-party applications such as Google Drive, Dropbox, and Pipedrive. But for me, the best part is the human touch – a wonderful customer service.
On the downside, monday.com significantly lags once you increase the usage and the number of users
6. Hive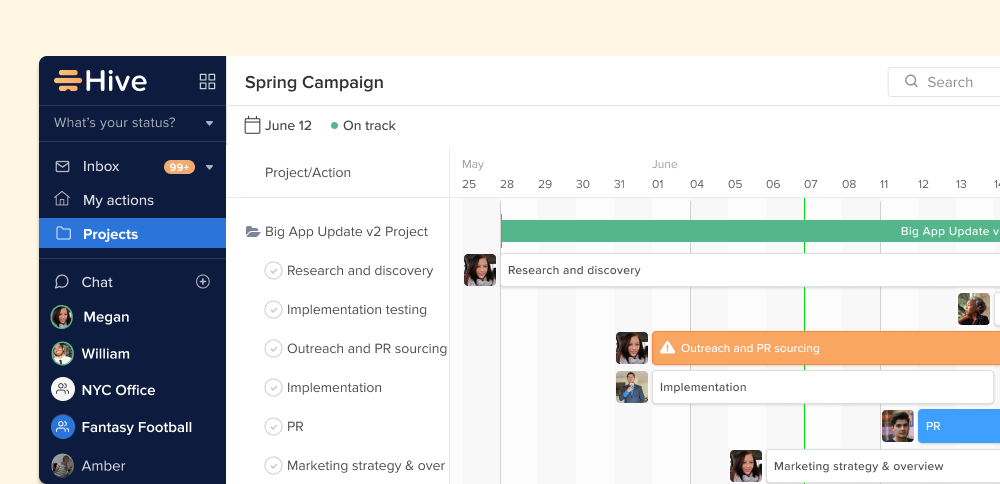 Hive is a leading project management tool that helps thousands of teams work faster in today's hybrid work environment. Hive brings all of your workplace tools to one single dashboard, so you can manage projects, chat with coworkers, send emails, and even start Zoom calls without ever leaving the window. Hive is more than just your classic project management software – it's the future of work productivity.
Hive is the first and only democratic project management platform. Via the Hive Forum, Customers have access to a public roadmap and can submit and vote on the features they'd like to see in Hive. It's a tool built by users, for users.
Use Hive online in a web browser, via desktop apps for Mac and Windows, or on iOS and Android mobile apps. Hive offers a free 14-day trial with team pricing plans starting at $12/user per month.
7. Trello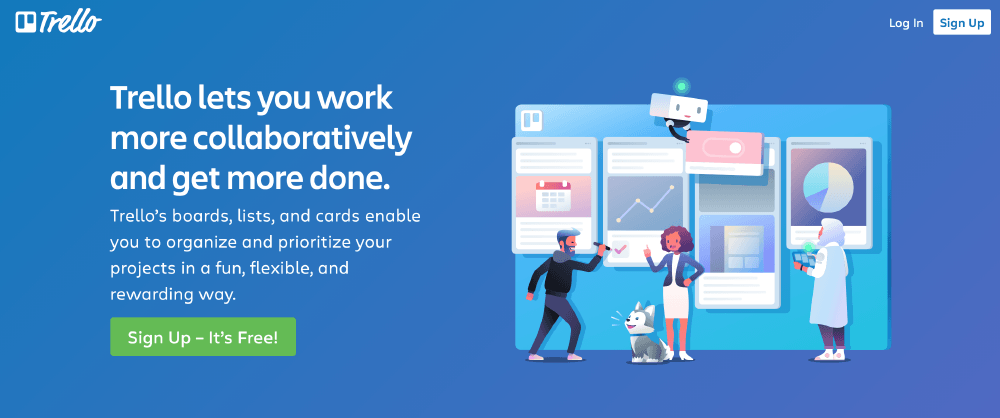 Trello is a fantastic app for small teams, freelancers, and people seeking personal task management. It is actually quite different from the other task management tools. It has such an attractive and inviting UI with simple drag-and-drop cards that users almost enjoy working with it.
Trello doesn't seem like it takes itself too seriously, but that doesn't mean it doesn't roll out some impressive features. It can be upgraded to enable Gantt charts, timesheets and video conferencing with the paid plans.
Then again, if you're looking for an ALM solution or complete portfolio management, Trello is not for you.
8. Basecamp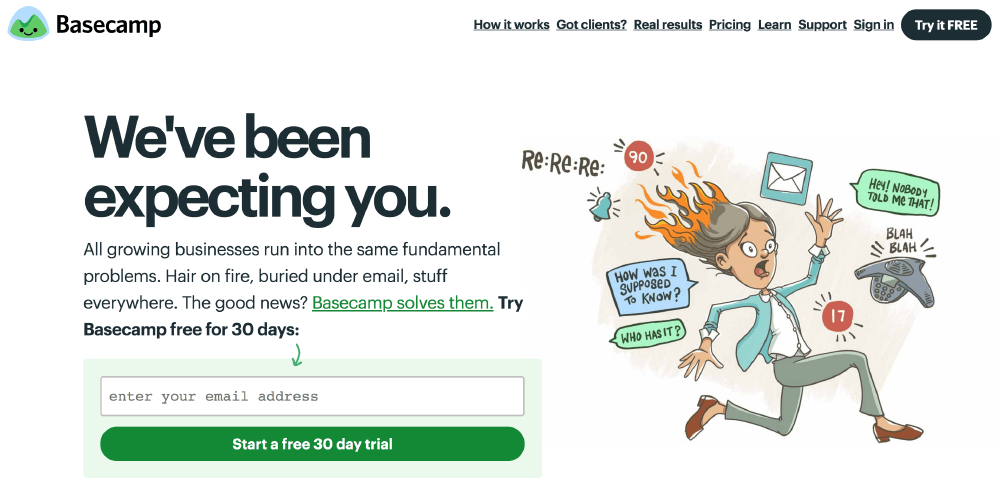 Basecamp is a popular project management tool for beginners, centered on efficient communication. It is also one of the oldest ones on the block.
It enables excellent collaboration with real-time group chat, file storage and sharing, a spreadsheet-style view for those who prefer it, along with the latest to-do list-style view.
Basecamp allows your team to visualize a roadmap and is excellent for non-I.T teams. My one qualm about Basecamp is its pricing structure. The pricing is almost $100 per month, irrespective of the size of the team.
Now if you have a team of over 10 to 15 people if works just fine. However, smaller groups and businesses find it costly.
9. Zoho Projects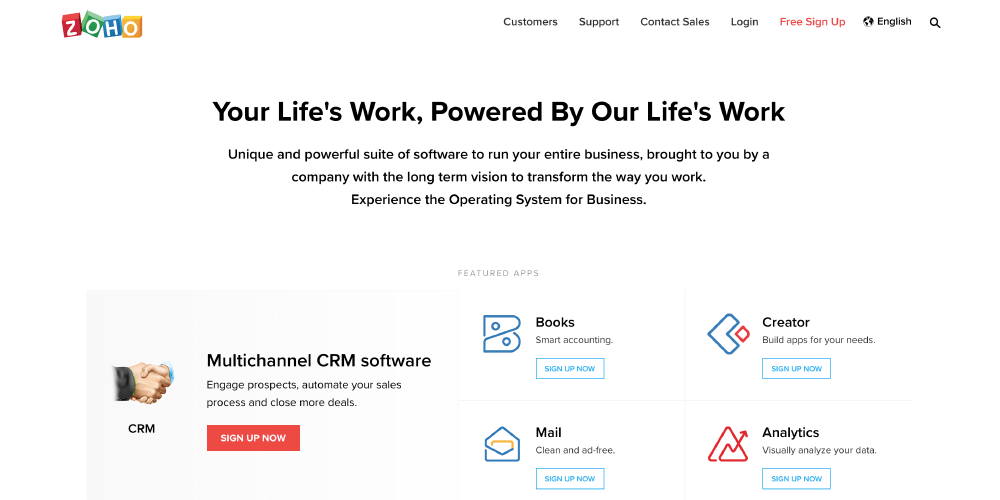 Zoho Projects is an excellent app for those who find solace in Gantt charts and the traditional style of project management. This tool is extensive if anything. It allows integration with Google and Dropbox and enables Document Management, issue management,  and collaboration. Zoho is intuitive and user-friendly, which makes it easier for non-technologically inclined users. The pricing is straightforward, but it does not support full agile development.
10. Kissflow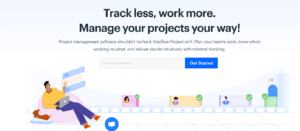 Kissflow is one of the best free project management tools out there. It has a comprehensive set of features like task management, collaboration, reporting, multiple views. Its UI is easy to use for new project managers and a great solution for teams and organizations of all sizes.
For visual learners and technology lovers will take to this tool quickly. However, for non-visual learners and non-techno-savvy people may find it difficult to understand. This can be a bit of learning curve for them.
11. Clarizen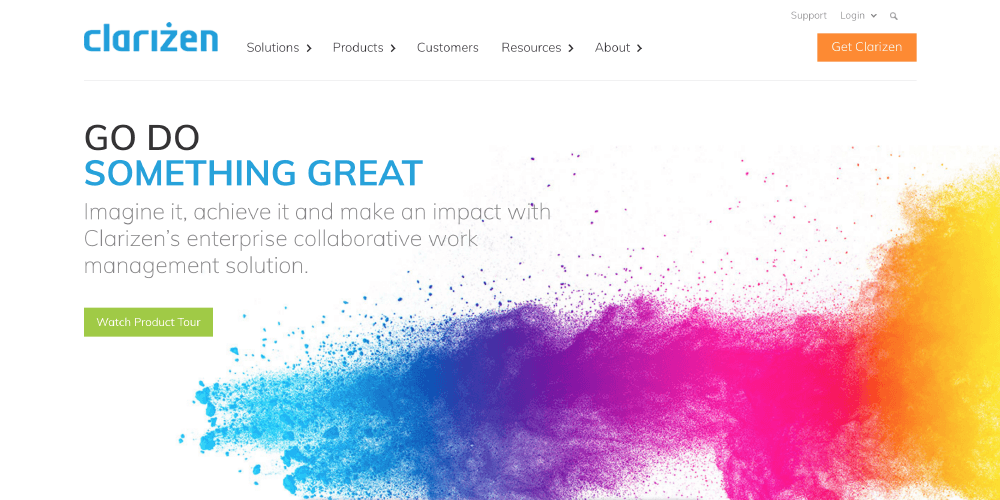 Clarizen is an excellent app. It lets you automate planning, scheduling, tracking, and collaboration efficiently. It also offers third-party integration, and you can customize it to fit your workflow.
The UI is simple, straightforward, and easy to adopt. Clarizen has a variety of functionalities and portfolio management capabilities as well. If you are someone who is not techno-savvy, it may be a little difficult for you, especially if you're one of those who like to refer to the user help guide. Clarizen's online user help guide is not very helpful. However, the support is excellent.
How to get your team to use and love project management software?
It doesn't end here. It can be a challenge for project managers to get their teams to switch. You know how they say that you can only lead a horse to water, but you cannot make it drink?
Turns out, you can make your horse drink the water you've so painstakingly evaluated and purchased. (I am obviously talking about getting your team to correctly implement the project management software that you've so painstakingly evaluated and purchased) Of course, it is not easy. Harvard sociologist Paul Lawrence says,
"What employees resist is usually not technical change but social change – the change in their human relationships that generally accompanies technical change."
Old habits and ways of working cannot be changed overnight. But you can be a good leader and ease your team into it.
Make sure you have established a collaborative environment: You don't want to be just the figurehead who tyrannically forces sudden change on the team. That never goes well. Get them to love it – gradually.
Do some recon: Ensure you get in touch with the vendor, get demos, and see to it that support is available if your team needs it.
Talk and get people talking: Talk to your team about the tool, ask them questions, answer their questions. What I mean is – figure it out together.
Explain why it is a win-win: Let your team know why it is great. Let them in on the secret that their work is actually reduced and much more manageable, not increased. Your team mustn't feel like this is just something that they're doing for the sake of the higher management.
Start small: Start using the tool for simple, everyday tasks so even if Jerry bungles the job all is not lost. Also, don't be too hard on teammates who do drop the ball. Jerry may not be as tech-savvy as you or the others are.
Be open to new rules and procedures being set: New software will introduce new, more natural ways of working. Expect some new rules being set and some old ones being broken. Even though you may feel like you're overwhelmed, or like you're losing the reigns, don't worry, let it sit for a while. Once you and everyone else finds their way around working these tools, things will return to normal in your virtual kingdom.
Seek feedback: Even after you've eased your team into adopting the software, it may so happen that the chaos just does not seem to stop. At this point, its time for you to start looking for clues. Maybe you need to change the tool you use, or perhaps you need to reassess whether or not the nature of your business is such that your team needs requirement management software. Maybe you need to keep looking for the right software for your team and company. There's plenty of fish in the sea!
You do this, and you've got an incredible power tool for project management, and a team of initial skeptics turned keen users who now know it like the back of their hand.
Project management is evolving, and so are the tools and practices used by project managers. Every other day debuts a new tool that sounds like it could be the next hit, chances are, it is.
Trying out every new viral software tool might actually be a good idea since many tools gift you that liberty these days.
Freelance project manager Heather Hendricks puts this the best
"I simply don't trust any software company that won't let me use the full software package for a specific free trial period. I want to kick the tires. Hard.
With all of these tools being SaaS products, you can give all the tools that catch your fancy a test ride and then settle on one and accelerate your team's efforts.